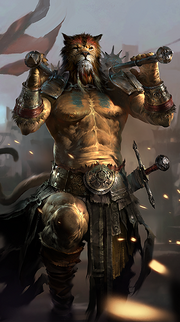 For other uses, see Khajiit.

"Khajiit are quick and agile, making them some of the most adept thieves in Tamriel. As a Khajiit, you will more quickly collect cards rewarding you for nimbly attacking your opponent."
―Character creation screen
Khajiit is a race in The Elder Scrolls: Legends.
[?]
Female Khajiit
"Bright moons light your path." – Saying "Hello"
"It has been an engaging hunt." – Saying "Good game"
"May fates smile on khajiit." – Imploring
"This one will shred your hide!" – Taunting
"This one is embaressed." – Saying "Oops"
"Nicely done!" – Saying "Nice Play"
"This one thanks you." – Thanking an opponent
"Khajiit is very sorry." – Saying "Sorry"
"You are victorious." – Concede
Notice: This table is generated automatically, so editing and updating it is possible only on the specific card page.
Appearances
Edit
Community content is available under
CC-BY-SA
unless otherwise noted.