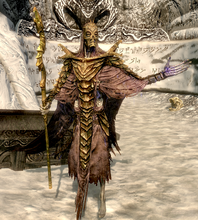 The
Mask of Krosis
is dropped by the
Dragon Priest
Krosis
, one of the eight named
Dragon Priests
of
Skyrim
, upon his death. Krosis is found on
Shearpoint
ridge in front of a
Word Wall
, and is accompanied by a dragon. Krosis means melancholy or sorrow in the dragon language.
The Mask of Krosis is enchanted with a 20% bonus to Lockpicking, Archery, and Alchemy.
Stats

(NOTE: The stats listed are the item's BASE STATS according to the Official Elder Scrolls V: Skyrim Game Guide - individual stats may vary due to skill levels, perks, or upgrades. Please DO NOT edit the stats on the wiki based on personal stats.)
Magical Effects
Glitches
It is possible to equip Krosis (or any other Dragon Priest Mask) while wearing a Falmer Helmet. This also works with the Ancient Shrouded Cowl and with circlets (at least on PC), allowing for an impressive increase in bow damage. The Cowl must be equipped first and the mask second each time. ( CONFIRMED with Ancient Shrouded Cowl and Krosis, both legendary. Might be fixed though, I tried on my second playthrough with my bugged Ancient Shrouded Cowl and Krosis, both normal, and failed. Please confirm. ) (does not work for pc)
Confirmed: You can wear any dragon priest mask with the Ancient Shrouded Cowl (360) if you equip the cowl first and then the mask.
If you equip a mask and the Archmage's Robes, your character's head will become invisible.
It is possible to equip Krosis (possibly other Dragon Priest Masks as well) and the Jagged Crown simultaneously.
See also
*Disclosure: Some of the links above are affiliate links, meaning, at no additional cost to you, Fandom will earn a commission if you click through and make a purchase. Community content is available under
CC-BY-SA
unless otherwise noted.