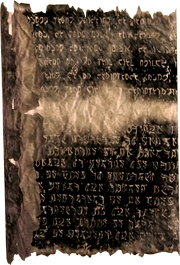 The following are the known languages that appear in The Elder Scrolls universe.
List of languages
Edit
[?]
"Syffim" – "Mercenaries/Fighters"
"Ada" – "Spirit." Found in Et'Ada and Ehlnada.
"Ae" – "Is/equal to/and"
"Ae-" – "Positive" prefix (ontological assertion)
"Aedra" – "Ancestors"[19]
"Aka" – "Dragon"
"Ald" – "Ancient," "Old"
"Aldmer" – "Ancient/Old Ones"
"Aldmeris" – "Elven"
"Altadoon" – "Weapon"
"Altmer" – "High Ones"[20]
"Akavir" – "Dragon Land"[22]
"Arcta" – "To face" [UL 1]
"Bos" – "Green," "Forest" [20]
"Chi-" – "Changed-"[20]
"Chim" – "Change"
"Chimer" – "The Changed Ones/Elves"[20]
"Dae" – "Is not/ not equal to"
"Dae-" – Negative prefix
"Daedra" – "Not our ancestors/Not a god"[19]
"Dra" – "Ancestors," "God" [UL 1]
"Doon" – Related to "Fight" or "War." Found in Altadoon and Ghardooni
"Dun" – "Dark"[20]
"Dunmer" – "The Dark Ones/Elves"[20]
"Dwe" – "Deep," "Secret"
"Ehln-" – "Ancestral"
"Ehlnada" – "Ancestors" (Literally ancestral spirit) [UL 1]
"Fevel" – "Weakness" [UL 1]
"Ghardooni" – "Invaders" [UL 1]
"Kan" – "To dare" [UL 1]
"Malatanya" – "Truth of Life" [UL 1]
"Malatu" – "Truth"
"Man"/"Men" – "Human(s)," "Man"/"Men"
"Manmer," "Menmer" – "Half Blooded One(s)" (referring to the first Bretons)
"Metanane" – "To have chosen" [UL 1]
"Mer" – "People" ("Elves")[23]
"Nu" – "We," "Us" [UL 1]
"Orsimer" – "Orc"[1]
"Orsinium" – "Orc-Town"[24]
"Resdayniil" – "Resdayn Folk" [UL 1]
"Tamriel" – "Dawn's Beauty"[22]
"Tarcel" – "To resist"[UL 1]
"Udhendra Nibenu" – "Father of the Niben"[1]
"Welkynd" – (Welkynd Stones) "Heaven Stone" (literal meaning: "Sky Child")[25]
"Vane" – "For" [UL 1]
"Varla" – (Varla Stones) "Star" [25]
"Vengha" – "To venerate/adore" [UL 1]
"Vir" – "Land"
"Ye" – "And" [UL 1]
Ayleidoon
Edit
The Ayleid language is believed to be a variation of "Old Cyrodiilic" rather than Tamrielic.[26]
Dialect of Ancient Redguard. (See "Old Redguard")[33]
"Riglametha" – "Grateful-offering"[33]
"Ghraewaj" – "The Crows Who Were Punished" or "The Crows Who Punish"[33]
Has its own alphabet, but is written the same as Tamrielic. See Daedric Alphabet
At some point in the past, the Dunmer had a complete, separate language.[9]
"Ald'ruhn" – "Old Home"
"Bal" – "Stone"
"B'vek" – An expression of shock or surprise[36]
"Card" – "undeparted kin-wardens"[37]
"Cardruhn" – "Ancestral tomb"[37]
"Corprus" – An incurable blight disease of the mind and flesh
"Fetcher" – Thief[39]
"Gah" – "Great" (e.g. Gah-Julan)[39]
"Hla" – "Little"
"Hortator" – A champion of the Great Houses who leads during times of crisis
"Khan" – Leader or councilor
"Kogo" – "Unbreakable"
"Kogoruhn" – "Unbreakable Home"
"Llananor" – A long shirt from the Ordinator's liturgical vestment[38]
"Mabrigash" – Renegade wise-women and witch-warriors of the Ashlander tribes[41]
"Mora" – "Forest"
"Mehra" – ?[43]
"Nerevarine" – the reincarnation of the Chimeri hero Indoril Nerevar
"Ouada" – "River"
"Ruhn" – "Home" or "hearth-hall"[37]
"Sotha" – ?
"S'wit" – Slack-wit[39]
"T'lonya" – Birthing swaddle[48]
Dwemeris.[3]
For a list of books written in Dwemeris, see Dwemeris.
Ancient language, now extinct.
"Ae" – "Is" (probably also encountered in elvish languages); prefix establishing as true
"Aedra" – "Ancestors"[19]
"Beratu" – "Half"[54] ("Bretons" is derived from this)
"Dae" – "Is not"; negative prefix
"Daedra" – "Not our ancestors"[19]
The Falmer Language can be determined thanks to etchings in Calcelmo's Tower, and Gallus's Encoded Journal[56]
A language according to the The Elder Scrolls Online lorebook Sacred Rites of the Stonechewers.
Established as a language in The Elder Scrolls II: Daggerfall.[4]
Roll me down down down to the river that welcomes me
Ge-rulla seb-seb-seb ytri topali ke wel'kyn-ge

I am a Welcome Stone
Ge una Wel'kyn Bal

Just ask anyone of age, little girl, for they remember me
Yn set ghyn aka, ky'naless, synd laru'me ge

I am a Welcome Stone
Ge yni Wel'kyn Bal

Wash me up up up and see! A familiar face! Too long gone!
K'yness-ge bes bes bes ad'soon! Ha'phyn fex! Ald'ald-het!

I am Orlyan, the Long Gone Stone
Ge yni Orlyan, the Ald-Het Bal

The Around-Us will be happy to see me again!
Aurbex lemha je-je ad'soon al-ge!

But it might go, "Wait, you looked different before!"
Hyn detta set, "Ka, g'e lr'khn nymbo!"

I am a Verily Stone!
Ge yni V'arla Bal!

But it might go, "Wait, you looked different before!"
Hyn detta set, "Ka, g'e lr'khn nymbo!"

I am a Verily Stone!
Ge yni V'arla Bal!
Jel, the languages of the Argonians, is described as "the closest speech to thought," a way of conversing communally with the Hist.[UL 4] Unlike many Tamrielic languages, Jel is not derived from Ehlnofex but comes from the ancient and sentient trees, the Hist.[UL 4] The language is sometimes erroneously referred to as Saxhleel[57], which is the Argonian name for themselves.[58]
"Sprig" – Nedic term for "fresh green twig or offshoot"[73]
"Tosh" – "dragon," sometimes "tiger" or "time" depending on the word's placement[74]
"Drah-gkon" – "dragon"[75]
"Evgir unslaad" – "Season Unending" [76]
"Merethic" – literally meaning "Era of the Elves"[21]
"Valunstrad" - "avenue of valor"
Old Bretic
Edit
Old Redguard
Edit
"Yokudan"/Old Yokudan[77]
(See also: Banthan – a dialect of this language)
Orcish is a language of the Orsimer peoples of Tamriel.[4] Other examples exist of its separate language, such as Sixteen Accords of Madness, Book XII.[87] [UL 5]
(See "Jel")
(Ta'agra)[14]
Honorific titles:
References
Edit
Notice
: The following are
unlicensed
references. They are not copyrighted by a ZeniMax Media company, but can still be considered part of
The Elder Scrolls
lore and are included for completeness.
↑ 1.00 1.01 1.02 1.03 1.04 1.05 1.06 1.07 1.08 1.09 1.10 1.11 1.12 1.13 Brad Derrick's ESO forum comment
↑ 3.00 3.01 3.02 3.03 3.04 3.05 3.06 3.07 3.08 3.09 3.10 3.11 3.12 3.13 The Water-getting Girl and the Inverse Tiger
↑ 5.00 5.01 5.02 5.03 5.04 5.05 5.06 5.07 5.08 5.09 5.10 5.11 5.12 5.13 5.14 5.15 Lord Vivec's Sword-Meeting With Cyrus the Restless
*Disclosure: Some of the links above are affiliate links, meaning, at no additional cost to you, Fandom will earn a commission if you click through and make a purchase. Community content is available under
CC-BY-SA
unless otherwise noted.