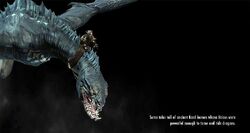 For other uses, see Loading Screens.

"Some tales tell of ancient Nord heroes whose Voices were powerful enough to tame and ride dragons."
―A loading screen from The Elder Scrolls V: Dragonborn.
Loading Screens appear when a new area is loaded. Along with an interactive three-dimensional model related to the area, a message is displayed that can often be of help, especially to new players.
Once you reach Solstheim, the player will be able to view many new screens ranging from tales about Miraak and Hermaeus Mora, to Skaal armor.
Lore screens
Edit
Gameplay screens
Edit
Creatures screens
Edit
Objects/images shown
Edit