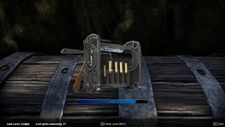 For other uses, see Lockpicking.
Lockpicking is a skill used to open chests in The Elder Scrolls Online.[1]
Picking a lock
Edit
Lockpicking in The Elder Scrolls Online involves pushing down a series of 5 spring-loaded weights with a lockpick, similar to the system in The Elder Scrolls IV: Oblivion. If pushed too long, a spring will reset and revert to its default position.[2] Lockpicks have a small chance of breaking each time a pin fails to be put in place.[1] There is a set amount of time (depending on Lockpicking level and the level of the lock itself), and if unsuccessfully completed in this time, will result in the chest being locked for a set amount of time before it can be retried.[2] Players can still be attacked by hostile Characters and enemy players while lockpicking.[3]
There is also a Force Lock option which functions similarly to the Auto Attempt mechanic in The Elder Scrolls IV: Oblivion.[4]
The Lockpicking skill advances every time the player levels, meaning that locks which were once very difficult to open gradually become much easier. Lockpicking difficulty increases with chests encountered in higher-level areas.[1]
Appearances
Edit
References
Community content is available under
CC-BY-SA
unless otherwise noted.