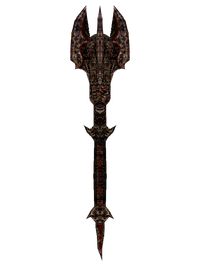 For other uses, see Maces.
A Mace is a one-handed blunt weapon that has a heavy head attached to a long grip. The head often contains multiple spikes or sharp-bladed edges to deal additional with each blow. Effectiveness in using a mace is governed by the Blunt skill.
Mace stats
Edit
The club has slightly less reach (0.9) than regular maces (1.0).
Notes:
"Base Value" refers to the actual value without Mercantile or disposition affecting it.
"Max. Damage" refers to the maximum amount of damage an item can do, assuming maximum stats and skill.
"Health" refers to a weapon's durability, "speed" refers to a weapon's attack speed, and "reach" refers to how close an opponent must be in order to be struck with a weapon.
Appearances
Edit
*Disclosure: Some of the links above are affiliate links, meaning, at no additional cost to you, Fandom will earn a commission if you click through and make a purchase. Community content is available under
CC-BY-SA
unless otherwise noted.