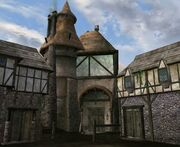 Main article: Mages Guild (Morrowind)
For other uses, see Mages Guild Quests.
Mages Guild Quests describes the list of quests that can be undertaken from the Mages Guild in The Elder Scrolls III: Morrowind.
In order to be given these quests it is necessary to join the Mages Guild. Some of the quests will only become available with advanced rank.
The following quests can be undertaken from Ajira. The first five missions are related to his rivalry with Galbedir. The last two are higher-level quests.
Ranis Athrys is the guild master for Balmora Mages Guild.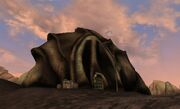 Edwinna Elbert offers a total of 9 Quests.
Skink-in-Tree's-Shade has the following quests:
Kill the Telvanni Councilors (optional quest)
A Wizard's Staff – Find a staff, and earn a promotion in the Mages Guild.
Arch-Mage (Quest) – Become Arch-Mage.
I'm NOT a Necromancer! – Discover a necromancer in the Mages Guild.
*Disclosure: Some of the links above are affiliate links, meaning, at no additional cost to you, Fandom will earn a commission if you click through and make a purchase. Community content is available under
CC-BY-SA
unless otherwise noted.