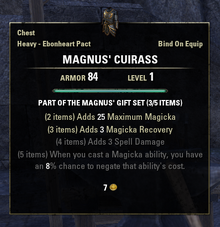 Not to be confused with Gift of Magnus.
Magnus' Gift is an item set that appears in The Elder Scrolls Online. Presumably it is named after the Aedra Magnus, one of the Et'Ada. Magnus being the god of Magic, Magnus' Gift set concentrates on boosting Magicka abilities.
When you cast a Magicka ability, you have an 8% chance to negate that ability's cost.
Requirements
Edit
In order to craft an item with the set enchantment, the item being crafted must have at least 4 traits researched for it and crafted at one of the proper crafting locations.
Locations
Edit
The necessary crafting stations needed to add an item to this set can be found at:
Appearances
Edit
Community content is available under
CC-BY-SA
unless otherwise noted.