For other uses, see Main Quest.
Note: All remaining Oblivion Gates will close when the main questline is completed. This will lead to not being able to pick up Sigil Stones in order to enchant items (version 1.2.xxxx). The only way to get them after this is by using the console cheats to duplicate them.
Dagon Shrine – The four volumes of the Commentaries have led to the discovery the Mythic Dawn's shrine to be found in the deep caverns of Lake Arrius.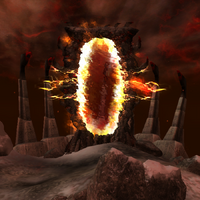 Defense of Bruma – With three out of four of the items, Martin tells of a very bold plan to obtain the final item required to open the portal to Mankar Camoran's Paradise—a Great Sigil Stone obtained from a Great Oblivion Gate.
Great Gate – Dagon has opened the three lesser gates after a bold plan by Martin to allow a Great Gate, similar to the one that destroyed Kvatch, to be opened. It is now time to enter the gate and obtain the Great Sigil Stone. One of the rewards obtained in this quest is a statue of the Hero erected in Bruma.
*Disclosure: Some of the links above are affiliate links, meaning, at no additional cost to you, Fandom will earn a commission if you click through and make a purchase. Community content is available under
CC-BY-SA
unless otherwise noted.