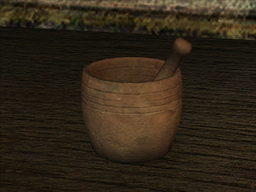 For the location in The Elder Scrolls V: Skyrim, see The Mortar and Pestle.
A Mortar and Pestle is a type of apparatus that can be used to create Alchemy potions.
According to Synnolian Tunifus and Anarenen, "A Mortar and Pestle is a bowl and grinding tool for mechanically reducing raw materials into the powders or pulps used in alchemical preparations.
Morrowind
Edit
Appearances
Edit
Community content is available under
CC-BY-SA
unless otherwise noted.