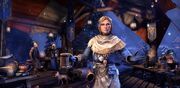 Main article: Calendar
For other uses, see New Life Festival (Online).
The 1st of Morning Star marks the beginning of the New Life Festival, which takes place across all of Tamriel in celebration of the new year. The Emperor usually uses his New Life Address to enact another tax increase, which often causes much resentment. Despite this, the New Life tradition of free ale at all of the taverns of Tamriel continues.[1] In some areas, particularly Wayrest, the New Life Festival is celebrated on the 25th of Evening Star.[UL 1]
Prince Naemon refers to the situation at Tanzelwil as being similar to this festival, since "the family's been drinking since noon, and everyone wants you dead."[2]
Another similar holiday is the Old Life Festival.
Notice
: The following are
unlicensed
references. They are not copyrighted by a ZeniMax Media company, but can still be considered part of
The Elder Scrolls
lore and are included for completeness.
*Disclosure: Some of the links above are affiliate links, meaning, at no additional cost to you, Fandom will earn a commission if you click through and make a purchase. Community content is available under
CC-BY-SA
unless otherwise noted.