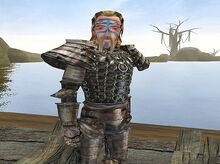 For other uses, see Nord.
Hailing from the province of Skyrim to the west, the Nords are efficient warriors.
Character creation
Edit
Main article: Character Creation (Morrowind)
Skills bonuses
Edit
Popular usage
Edit
Nords start off with fairly decent combat skills, so people usually lean to becoming warriors or knights, dealing high damage, and absorbing high damage. Using one-handed weapons and a shield gives you the most defense, whilst still doing fairly decent damage; but a two-handed weapon can do massive amounts of damage, but at the cost of armor rating.
Notable Nords
Edit
The following are notable Nords in The Elder Scrolls III: Morrowind:
Appearances
Edit