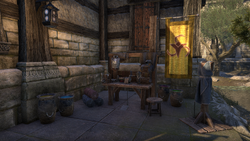 Main article: Crafting (Online)

"The Outfit System allows you to completely tailor the appearance of your gear, regardless of what your character is currently wearing. In this basics guide, you'll learn everything you need to know about how to create your own custom look!"
Outfit Stations, formerly known as Dye Stations, allow you to change the color of your armor with dyes you can unlock through completing certain achievements. They were updated in Update 17 to allow for the new outfit system. Outfit Stations can commonly be found next to other crafting stations, and can also be placed inside player homes.
You can visit an outfit station and modify any outfit set that you have created, which will cost the Vestige either gold or a Outfit Change Token, which covers the cost of the entire outfit change, and can be purchased from the Crown Store.
You can change the appearance of the following item slots: helmets, chests, shoulders, hands, waist, legs, feet, primary weapon(s), and secondary weapon(s).
Outfit stations can be found in all major cities (With the exception of Davon's Watch), and can be found by their special marker.
Ability to choose between light, medium, and heavy armor types to select what you have unlocked for modification.
New styles can be unlocked by learning Crafting Motifs.
Every piece of gear has up to three separate areas that can be dyed individually, and you have tools available to do so.

Color Sets: You can use the special dye tools to create and apply custom color sets.
Eye Dropper Tool: You can use the eye dropper tool to pick colors from previously dyed gear, and apply that color elsewhere.
Paint Bucket Tool: This tool applies the dye you've selected to the corresponding color area of every piece of gear you have equipped.

At an outfit station, you can see every color available. Dyes you haven't obtained yet are displayed with a lock icon. Hover over any locked color to see which achievement is associated with it. You can right-click on it to jump to the achievement panel and read the achievement's completion criteria. When a dye is unlocked, it will be available for all characters on your account.
You are able to choose from the following hues, each with different shades within them:
Black
Blue
Brown
Green
Grey
Magenta
Orange
Pink
Purple
Red
Tan
White
Yellow
Update 7: As of Update 7, it is no longer possible to use an Outfit Station whilst in Werewolf Form [1]
Update 17: The Outfit station was renamed from Dye Station, and a new outfit system was put into place in exchange for the dye stations.
Appearances
Edit
References
*Disclosure: Some of the links above are affiliate links, meaning, at no additional cost to you, Fandom will earn a commission if you click through and make a purchase. Community content is available under
CC-BY-SA
unless otherwise noted.