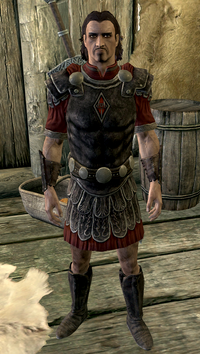 The Penitus Oculatus (Skyrim) is a non-joinable faction in The Elder Scrolls V: Skyrim. After the fall and disbanding of the Blades and the signing of the White-Gold Concordat,  the Penitus Oculatus were created to serve as the Empire's security and law enforcers, as well the emperors bodyguards.
Background
During the Stormcloak Rebellion, the organization was led by Commander Maro and his second in command and son, Gaius Maro. Agents of the Penitus Oculatus only appear in Skyrim outside of their outpost in Dragon Bridge during the Dark Brotherhood questline, after the Dark Brotherhood is contacted by Amaund Motierre to assassinate Titus Mede II, the Emperor of Cyrodiil during the time of the Last Dragonborn. Respawning Penitus Oculatus agents can be encountered in Solitude and Castle Dour during the events of To Kill an Empire, and inside of the Falkreath Sanctuary during the events of Death Incarnate.
Members
Infernal City
The Penitus Oculatus also appear in The Infernal City. Known members include, but are not limited to:
Skyrim
Generic Members
Penitus Oculatus Agents can be encountered as Battlemages, Warriors, and Archers, and are all equipped in their signature armor. Battlemages are equipped with an Imperial Sword and a selection of low-level spells. Archers are equipped with an Imperial Bow, Iron Arrows, and an Iron Dagger. Warriors wield an Imperial Sword and an Imperial Shield.
Quests
Trivia
Bugs
Appearances
References
Gallery