For other uses, see Priory of the Nine.

"I heard that someone's taken over that abandoned priory in the West Weald. I wonder what they could be up to?"
―Rumors in Cyrodiil
The Priory of the Nine is a small settlement located about half-way between Bravil and Skingrad, near the Elsweyr border. The Priory houses the once-great Knights of the Nine.
The Priory is made up of a hall with a ground floor, second floor, basement, and undercroft. There is also a detached Chapel of the Nine on the grounds, as well as a small garden and archery practice area.
Plants are abundant in the area and include: Columbine, Dragon's tongue, flax, and Lady's Smock.
The ground floor of the main building is a dining area with a fireplace and table. The secret entrance to the basement is located here as well. To access it one will need to use Sir Amiel's Ring at the center of the symbolic circle.
The second floor of the main building has several beds for the knights, as well as an adjacent room with a double bed and storage space.
The basement houses a melee training area and a smithy, as well the entrance to the undercroft.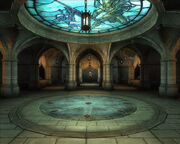 The undercroft houses the armor stand and the graves of the former Knights of the Nine. One may receive blessings from each of the eight graves (Sir Berich not included) in the undercroft, one for each divine (except for Talos).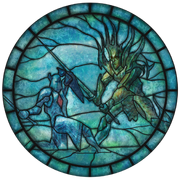 There is an Armor Stand in the undercroft of the Priory. The Relics of the Crusader can be placed on the stand, as well as taken from the stand as one whole set. Individual pieces can also be swapped to and from the armor stand automatically.
The Relics are all leveled items, but can be "upgraded" when placed on the armor stand at certain level ranges, if not already at the maximum. The weapons will also be recharged completely when they are placed on the stand.
Also note that if the Hero is an Expert Armorer, they can repair to 125, place the armor and weapons on the stand, pull and repair them again, as they will have dropped to 100.
There are plants both in the garden and in the area around the priory, these are the ones you'll find in the garden.
In the area around the priory one will find the following:
*Disclosure: Some of the links above are affiliate links, meaning, at no additional cost to you, Fandom will earn a commission if you click through and make a purchase. Community content is available under
CC-BY-SA
unless otherwise noted.