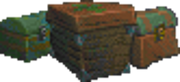 For other uses, see Random Loot.

"Gold pieces, powerful weapons, thick armor, strange objects, fancy ball gowns, keys and potion ingredients are yours for the taking."
Random loot is defined as treasure in The Elder Scrolls II: Daggerfall that is found in chests or other containers, or taken from defeated enemies.
Description
Edit
Multiply the number of and the chance for each item by the level of the NPC.
Roll % chance to see if monster has an item from a particular category. If successful, roll % chance x 0.5, until no more items are found from that category.
TP – Temperate Plant Ingredient
WP – Warm Plant Ingredient
MM – Miscellaneous Monster, also referred as Mountain Monster, Ingredient
WM – Warm Monster Ingredient
CM – Cold Monster Ingredient
MP – Misc Potion Ingredient
AM – Armor
WPN – Weapon
MI – Magic Item
CL – Clothes
BK – Book
MS – Miscellaneous Item
RL – Religious Item
Random Loot
Code
TP
WP
MM
WM
CM
MP
AM
WPN
MI
CL
BK
MS
RL
A
1–10
0
0
0
0
0
0
5
25
2
4
0
2
0
B
-
0
10
10
0
0
0
0
0
0
0
0
0
0
C
2–20
10
10
5
5
5
5
5
25
3
0
2
2
2
D
1–4
6
6
6
6
6
6
0
0
0
0
0
0
4
E
20–80
0
0
0
0
0
0
10
10
5
4
2
1
15
F
4–30
2
2
5
5
5
2
50
50
2
0
0
3
0
G
3–15
0
0
0
0
0
0
50
50
3
5
0
3
0
H
2–10
0
0
0
0
0
0
0
100
2
2
0
0
0
J
-
0
0
0
0
0
0
0
0
10
0
0
0
5
K
50–150
0
0
0
0
0
0
5
5
20
0
0
0
0
L
1–10
3
3
3
3
3
3
5
5
5
0
5
2
100
M
1–20
0
0
3
3
3
3
50
50
2
75
0
5
3
N
1–15
1
1
1
1
1
2
10
10
1
15
2
3
1
O
1–80
5
5
5
5
5
5
5
5
2
20
5
2
5
P
5–20
1
1
1
1
1
1
10
15
3
0
0
0
0
Q
5–20
5
5
5
5
5
5
5
10
3
0
10
5
0
R
20–80
2
2
8
8
8
2
10
25
10
35
5
3
0
S
5–20
0
0
3
3
3
5
5
15
5
0
0
0
0
T
50–125
5
5
5
5
5
15
10
10
20
0
5
5
0
U
20–80
0
0
0
0
0
0
100
100
3
0
0
0
0
V
7–30
5
5
5
5
5
10
10
10
3
0
2
2
10