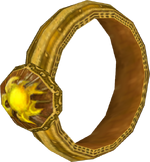 The Ring of Sunfire is an enchanted ring obtained in the quest "Order of the Virtuous Blood." The ring grants the wearer resistance to disease and spell reflectance. The percentage of each is based on character level when the ring is received.
If the Hero is currently a vampire, they cannot equip the ring.
Level
Base Value
Weight
Enchantments
Apparel ID
1–4
3600
0.2
Reflect Spell 8%
Resist Disease 10%

0001E0FA

5–9
4975
0.2
Reflect Spell 11%
Resist Disease 15%

0006B689

10–14
6350
0.2
Reflect Spell 14%
Resist Disease 20%

0006B68A

15–19
7725
0.2
Reflect Spell 17%
Resist Disease 25%

0006B68B

20–24
9100
0.2
Reflect Spell 20%
Resist Disease 30%

0006B68C

25+
11275
0.2
Reflect Spell 25%
Resist Disease 35%

0006B68D
Appearances
Edit
*Disclosure: Some of the links above are affiliate links, meaning, at no additional cost to you, Fandom will earn a commission if you click through and make a purchase. Community content is available under
CC-BY-SA
unless otherwise noted.