Fire Emblem Warriors: Three Hopes - The Loop
Play Sound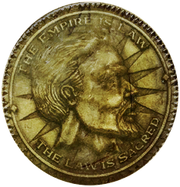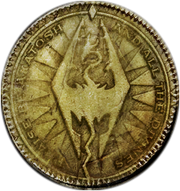 For other uses, see Septim.
The Septim is the main currency in all of Tamriel. It is named after the dynasty that rules the Septim Empire founded by Tiber Septim. It is officially called a Septim due to the engraving of Tiber Septim on the obverse side. The legend on the obverse (front) is: "The Empire is Law. The Law is Sacred." The reverse reads: "Praise be Akatosh and all the divines."
By game
[
]
Other names
[
]
It is colloquially known as Drakes, due to the seal of Akatosh on the reverse side, which can be read in The Elder Scrolls III: Morrowind. The in-game name of the item is actually Gold, though some characters, books, and anything else outside the game menus refer to them as Septims.
Acquisition
[
]
Septims can be looted from dead enemies and in containers, lying around, obtained through completing quests (amount may depend on level), in satchels and knapsacks, laying around on tables, or on the floor, or by selling items, and can be stolen or pickpocketed.
Infinite gold exploits
[
]
Oblivion
[
]
At the Imperial City, max out Dorian's disposition and strike him with a Paralysis-inducing effect, such as those found in spells, poisons, and weapons. Search his body and remove the 227 present there. Unlike normal looting, the remains in his inventory and can be collected infinitely. Collecting it for roughly ten minutes yields 1 million , while nine hours yields 50 million. This exploit was fixed by the 1.1.511 patch.
Skyrim
[
]
Acquiring gold
[
]
Skyrim
[
]
Trivia
[
]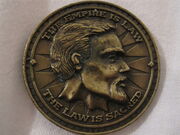 An actual replica of the Septim coin was included in the collector's version of The Elder Scrolls IV: Oblivion.
In Skyrim, Septim coins appear to represent gold coins in general as opposed to just the currency of the Empire, as they can be found in Nordic tombs and on draugr that predate the Septim Empire. They are also used in regions officially outside Imperial jurisdiction, such as Solstheim.
In both Oblivion and Skyrim the console command "player.additem f X" (X being the desired amount) can be used to add gold directly to the player character's inventory.
In Morrowind, Oblivion, and Skyrim, Septims which are stolen (marked with a red hand in the source container) are merged into the gold count in inventory with the stolen flag removed. Thus, one will never lose gold when guards confiscate stolen items.
Gallery
[
]
Appearances
[
]