Servants of Ancient Kings is a quest available in The Elder Scrolls Online.
Background
Edit
The dead lords and ladies of the mounds can't rest knowing the Bloodthorn Cult has enthralled their servants.
Quick walkthrough
Edit
Rescue the three Subdued Spirits
Kill Sir Granden
Talk to King Donel Deleyn
Release the Kings
Complete the quest
Walkthrough
Edit
King Donel Deleyn continues to tell the Vestige about the danger facing their faithful knights. The graverobbers use soul-twisting sorcery to enslave them. Slay the cultists and rescue the spirits they are trying to enslave. To his great sorrow, Sir Granden has already heeded their evil way. Find his tomb and destroy him. When this is done, they are to return and find King Donel Deleyn on the monument hill.
Sir Granden was a great hero of High Rock. Standing alone in the pass to Stormhaven, he turned back the raging Nord invaders. As the first spirit to fall to the Bloodthorns, he will be a fearsome opponent.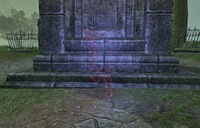 Find the three tombs, slay the cultists and set the spirits free. Then follow the marker to find Sir Granden at his tomb. He is fearsome and can be hard to beat.
After defeating him, return to find King Donel Deleyn on the monument hill. He is waiting with his fellow spirits, for the good news. Let them know the spectral knights are free and they will express their thanks. By talking to the king again the Vestige will release the kings so they will go to their final rest after rewarding them with

and a special bow.
36–151
Community content is available under
CC-BY-SA
unless otherwise noted.