Not to be confused with Sheogorath.
Sheogorad is a region found in The Elder Scrolls III: Morrowind.
Description
[
]
The region is an archipelago of about three dozen islands on the north of Vvardenfell island in Morrowind province. It is largely uninhabited, with the exception of the small villages of Dagon Fel and Ald Redaynia. The population is mostly composed of Nords, who claim to have settled here even before the Chimer claimed Morrowind. Numerous ruins dot the landscape, many of them Daedric and Dwemer. A Dunmer Stronghold, Rotheran, also exists here.
The region is named in honor of Sheogorath, the Daedric Prince of Madness.
Locations
[
]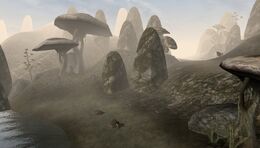 Residences
[
]
Ancestral Tombs
[
]
Caves
[
]
Daedric Ruins
[
]
Dwemer Ruins
[
]
Fortress
[
]
Grottos
[
]
Landmarks
[
]
Mines
[
]
Ships
[
]
Tower
[
]
Quests
[
]
Miscellaneous
[
]
Characters
[
]
Appearances
[
]