Fire Emblem Warriors: Three Hopes - The Loop
Play Sound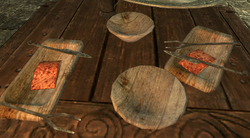 For other uses, see Silverware.
Skyrim has non-interactive knives and forks that appear to be crafted from either iron or steel. They can easily be found in most homes and buildings throughout all nine holds. These non-interactive pieces cannot be picked up, but can be moved using magic.
Silverware that is able to be picked up, such as forks, knives, and spoons can be found alongside Dwemer kitchenware items in many heavily Dwemer influenced areas. Wooden ladles can be found across most regions of Skyrim, but are generally uncommon items. There are three pieces of named silverware in Skyrim: Balbus' Fork, Wylandriah's Spoon, and Ysgramor's Soup Spoon.
Weight and value
[
]
Locations
[
]
Silverware as weapons
[
]
There are various silverware pieces in Skyrim that can be used as weapons. They include forks and knives. The pieces resemble the common non-interactive versions, not the Dwemer made silverware. No spoons that may be equipped as weapons have been found. These weapons can safely be stored alongside regular silverware without any issues even though they are named the same. These silverware weapons will eventually respawn. They can be enchanted, but cannot be upgraded at a grindstone.
Locations
[
]
Appearances
[
]