"Therefore, I humbly beseech any students of history who might encounter this modest text to travel to Solstheim and learn all that can be learned of this noble people and their ancient customs. The Skaal people might not be long for this world, but let us assure that their proud and noble legacy lasts well into the future."
Solstheim or Soulstheim is an island region located on the Sea of Ghosts, between the provinces of Skyrim and Morrowind. For the longest time, Solstheim held little significance until around 3E 427, when the East Empire Trading Company began to set foot onto the land and build their colony. It has evolved since the disaster in 4E 5, when the High King of Skyrim gave Solstheim to Dark Elven refugees. The Skaal Tribe of Nords have lived on Solstheim since the Merethic Era. It is known as the "Jewel of Absolutely Nothing."
By game
Description
Geography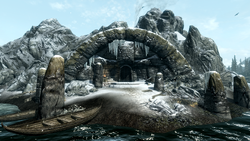 The Felsaad Coast consists of the northeast of Solstheim, and it is the home of the native Nordic population, as the Skaal Village is located on the northeast bluffs. Much of the region has been used by the Skaal Tribe, from not only the village but the subsidiary settlement of the Thirsk Mead Hall, which was founded by a sub-group of the Skaal. The mead hall is found on the other side of the region, on the shores of Lake Fjalding. Minor islands are found on the water, a notable one is the Gyldenhul Barrow, the ancient burial tomb of the infamous Nordic pirate, Haknir Death-Brand. It is found on Horker Island.
---
The Hirstaang Forest consists of the southern half of Solstheim, and it is the center of the region's commerce, as the settlements of Raven Rock and Fort Frostmoth are found here. Compared to the north, Hirstaang is tame, containing some minor farmlands, outside the Raven Rock walls. Fort Frostmoth was the first settlement in the land, until in 3E 427, the township of Raven Rock was founded. When the Red Year occurred, the sudden ashstorms had practically destroyed the Hirstaang Forest. Fort Frostmoth was swallowed by the ash, and thanks to House Redoran, Raven Rock was able to survive, barely. Dead trees currently riddle the landscape, a shell of its former self.
---
---
---
Fauna
Rieklings & Bristlebacks
Grahl
Ash Creatures
Lurker
Frost Giant
Miscellaneous Creatures
Flora
Government
Religion
History
Main article: Solstheim (Bloodmoon)
Main article: Solstheim (Dragonborn)
Locations
Regions
Settlements
Ruins
Caves
Landmarks
Gallery
Trivia
Appearances
References
Notice
: The following are
unlicensed
references. They are not copyrighted by a ZeniMax Media company, but can still be considered part of
The Elder Scrolls
lore and are included for completeness.
*Disclosure: Some of the links above are affiliate links, meaning, at no additional cost to you, Fandom will earn a commission if you click through and make a purchase. Community content is available under
CC-BY-SA
unless otherwise noted.