For other uses, see Summerset Isles.
For the chapter, see The Elder Scrolls Online: Summerset.
The Summerset Isles are a province in The Elder Scrolls Online. It is under control of the Aldmeri Dominion, led by Queen Ayrenn, and is the homeland of the Altmer. The Summerset Isles consists of three islands; Summerset, Auridon, and Artaeum.[1]
Out of the three main islands, Summerset is the largest, and also contains the capital of the Summerset Isles, Alinor. To the east of Summerset is Auridon, which is closer to Tamriel and is the second largest of the three islands. The Isle of Artaeum used to be on Nirn, but has since vanished, though can still be visited.
Summerset can be visited via wayshrines or the navigator Ciryelda. To reach Auridon, the same methods may be used. The isle of Artaeum, however, requires different means of transportation.
The Summerset Isles are referred to by the Altmer as "one of the most beautiful places in Tamriel,"
and offer a rather different landscape from that of other provinces. Throughout Summerset Isles, there can be seen pink trees, vibrant hills, and stony mountains. Summerset's beaches are somewhat rocky and grassy, while Auridon's are rocky and sandy.
Main article: Quests (Summerset)
Main article: Quests (Summerset)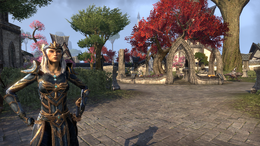 Online Locations
Provinces
Black Marsh • Cyrodiil • Elsweyr • Hammerfell • High Rock • Morrowind • Skyrim • Summerset Isles • Valenwood
Aldmeri Dominion Zones
Auridon (Iluvamir, Calambar, Vafe)
Grahtwood (Long Coast, Green Hall, Tarlain Heights)
Greenshade (Wilderking Court, Drowned Coast, Green's Marrow)
Malabal Tor (Broken Coast, Silvenar Vale, Xylo River Basin)
Reaper's March (Northern Woods, Jodewood, Dawnmead)
Khenarthi's Roost
Daggerfall Covenant Zones
Glenumbra (Daenia, Cambray Hills, King's Guard)
Stormhaven (Alcaire, Menevia, Gavaudon)
Rivenspire (Eyebright Feld, Westmark Moor, Boralis)
Alik'r Desert (Myrkwasa, Hollow Wastes, Tigonus)
Bangkorai (Mournoth, Ephesus, Fallen Wastes)
Stros M'Kai • Betnikh
Ebonheart Pact Zones
Stonefalls (Daen Seeth, Zabamat, Varanis)
Deshaan (Redolent Loam, Lagomere, Siltreen)
Shadowfen (Reticulated Spine, Leafwater, Venomous Fens)
Eastmarch (Giant's Run, Frostwater Tundra, Icewind Peaks)
The Rift (Stony Basin, Ragged Hills, Smokefrost Peaks)
Bleakrock Isle • Bal Foyen
Other Zones
Coldharbour (Black Garrison, Fist of Stone, Shrouded Plain)
Craglorn (Belkarth Region, Elinhir Region, Upper Craglorn)
Cyrodiil (Covenant Territory, Dominion Territory, Pact Territory)
Chapter and DLC Zones
Wrothgar (Western Wrothgar, Central Wrothgar, Eastern Wrothgar)
Vvardenfell (Ascadian Isles, Ashlands, Azura's Coast, Bitter Coast, Grazelands, Molag Amur, West Gash)
Summerset • Artaeum
Murkmire • Norg-Tzel
Northern Elsweyr (Anequina)
Southern Elsweyr (Pellitine)
Western Skyrim • Blackreach
Blackwood
Imperial City • Hew's Bane • Gold Coast • Clockwork City • The Reach • Spiral Skein
*Disclosure: Some of the links above are affiliate links, meaning, at no additional cost to you, Fandom will earn a commission if you click through and make a purchase. Community content is available under
CC-BY-SA
unless otherwise noted.