Where's Frabbi and Cosnach? I had both of them send out thugs after me but they're not on the list?! --nv4_disp.dll - The device driver got stuck in a bugged infinite loop. Here we go again. 10:43, April 19, 2012 (UTC)
I also had a visit by thugs sent by Shavari. Interestingly, I have not been to Riften yet, and I have no recollection of stealing from her. The only theft I think I have committed is to pickpocket trainers to get the gold back and to level pickpocketing quickly. With her affilliation, it could possibly have to do with me storming Northwatch Keep to get Thorald out. I chose the path to find away to release Thorald from custody alone without mentioning a peacefull sollution. 122.106.15.149 06:08, June 11, 2012 (UTC)
I had thugs sent after me by Alfur and have not even stole from any NPC in the game except the first mission for the Thieve's Guild?
I got this from Paathurnax...
http://steamcommunity.com/id/tylerofl/screenshot/578961482151612215
Apparently the leader of the Greybeads doesn't have an issue with murdering the Dragonborn over a few stolen Regneration Potions.
I got it from Garmr, one of Harkon's dogs...
This is a bug that I believe was introduced in patch 1.6 or Hearthfire. I had thugs after me who were hired by Lortheim, a priest in the Temple of Talos in Windhelm, I'd never been in there and I'd never spoken to him. The only thing I had done in Windhelm in the last few in-game weeks was adopt a girl who was selling flowers, it's possible this may be connected somehow. Pongley (talk) 00:39, October 13, 2012 (UTC)
Bolfrida from the Brandy-Mug farm also gave a contract to thugs. Yumeyo-yuki (talk) 20:02, November 12, 2012 (UTC)
In addition to the mentioned Possible Employers I received a note which just mentioned 'Mercenary', which obvious isn't helpfully in any way. Locustus (talk) 13:42, October 7, 2013 (UTC)
I murdered a bunch of people in the Morthal inn, and then a few days later in the courtyard of the College of Winterhold some thugs attacked me. Somehow the contract was from Uglarz, who I haven't even meeted yet and don't think is even in Skyrim. The code and stuff is in the game, obviously, but I don't think the character is in the game... Weird.
Sellandre (talk) 18:43, April 20, 2014 (UTC)
One of the contracts I've received is signed "..." for killing their dear "...", who are these people!? Apparently nobody put a contract on me for killing nobody! Wardie1993 (talk) 20:16, November 6, 2016 (UTC)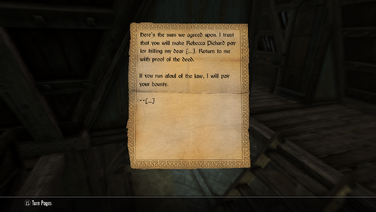 *Disclosure: Some of the links above are affiliate links, meaning, at no additional cost to you, Fandom will earn a commission if you click through and make a purchase. Community content is available under
CC-BY-SA
unless otherwise noted.