No Man's Sky Update - The Loop
Play Sound
The Tanning Rack is a crafting station found in The Elder Scrolls V: Skyrim. Tanning racks are used to make leather and leather strips, which are in turn used to craft armor and weapons, and are crucial materials for smithing items from scratch. Tanning does not increase the Smithing skill.
Pelt acquisition
[
]
Animal pelts for creating leather can be taken from dead animals such as wolves, deer and bears, or purchased from hunters roaming the wilds and also some town vendors.
Locations
[
]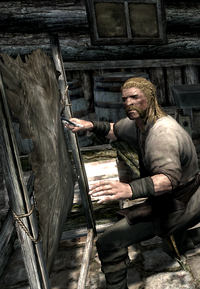 One in Castle Volkihar in the training room.
One in Broken Oar Grotto next to the smelter.
One in Dawnstar at the blacksmith, near the lake.
Three in Falkreath:
One at Froki's Shack, on the left side of the shack.
One in Hag Rock Redoubt, outside Markarth near the main entrance to Dead Crone Rock.
One in Halted Stream Camp inside fort, near the slaughtered Mammoth.
One at Heartwood Mill near the mill.
At least two at each Homestead: one near the animal pen and one in the cellar. If an armory is built, it adds two more: one inside the armory, and one more on the porch above the armory.
One in Ivarstead, near Fellstar Farm.
One in Kynesgrove near the miners' tents and crops.
One in Largashbur.
One in Lost Knife Cave.
Two in Riverwood, near Alvor's forge and Sven and Hilde's House.
One in Riften outside The Scorched Hammer.
One at Sarethi Farm, on the left side of the porch.
One in Shor's Stone.
One in Solitude, outside of the Solitude Blacksmith.
One in Whiterun, outside of Warmaiden's.
One in Windhelm, outside of the blacksmith's quarters.
Two at Windhelm docks, near entrance to Windhelm and near the boats.
One in Honeyside, after the porch upgrade has been bought.
One at Bandit Camp: Ilinalta Foothills.
One in Raven Rock in Solstheim, on the dock.DR
List of hides
[
]
Trivia
[
]
The starting animation of using a tanning rack always shows the Dragonborn using an iron dagger, no matter what weapon they are wielding.
The value of the leather produced from some hides is less than the value of the hides themselves.
The weight of the leather produced from some hides is more than the weight of the original hide.
Appearances
[
]