No Man's Sky Update - The Loop
Play Sound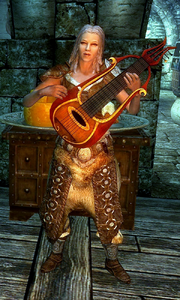 Not to be confused with Skyrim's theme song.
The Dragonborn Comes is the name of a popular song in The Elder Scrolls V: Skyrim. Most bards throughout Skyrim will sing the song upon request. The song's composer in Tamriel is anonymous. It can only be requested after completing "A Blade in the Dark."
Lyrics
[
]
Our hero, our hero
Claims a warrior's heart
I tell you, I tell you
The Dragonborn comes

With a Voice wielding power
Of the ancient Nord art
Believe, believe,
The Dragonborn comes

It's an end to the evil
Of all Skyrim's foes
Beware, beware
The Dragonborn comes

For the darkness has passed
And the legend yet grows
You'll know, you'll know
The Dragonborn's come
Trivia
[
]
Occasionally, when asking a bard to play the song, they may respond with uncertainty, likely because the song is very uncommon for a request.
Appearances
[
]