Welcome
---
Welcome to The Elder Scrolls Wiki, a collaborative encyclopedia about The Elder Scrolls (TES) series of games that anyone can edit. The wiki serves as a repository of images, artwork, books, dialogue, audio, videos, as well as explanatory articles summarizing information about significant characters, locations, quests, items, factions, mechanics, and lore concepts, real-world material, and select external texts. We currently have 69,463 articles.
The Elder Scrolls is a series of primarily open-world role-playing video games developed by Bethesda Softworks and set on the continent of Tamriel, a magic-infused universe with a complex history, politics, and environment. The game's first title, The Elder Scrolls: Arena, was released in 1994. Four additional main series games have since been released: Daggerfall (1996), Morrowind (2002), Oblivion (2006), and Skyrim (2011), as well as numerous spin-off titles such as Online (2014), Legends (2017), and Blades (2019). The series' next main series game, The Elder Scrolls VI, is in development but has no set release date.
The Elder Scrolls News
Billy Kametz passed away on June 9, 2022 after a battle with colon cancer. He lent his voice to many characters in The Elder Scrolls Online, including the High Isle chapter.
Kametz was known for many voice dubbing roles such as Josuke Higashikata in JoJo's Bizarre Adventure: Diamond is Unbreakable, Naofumi Iwatani in The Rising of the Shield Hero, Ferdinand von Aegir in Fire Emblem: Three Houses, Niccolo in Attack on Titan, Colt in Brawl Stars, and Takut…
---
Featured Article
---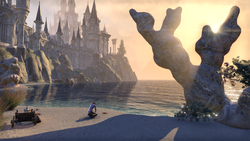 The Queen's Decree is the first quest of the main quest available in The Elder Scrolls Online: Summerset. The Vestige arrives on the island of Summerset in the wake of Queen Ayrenn's decree to open the border to foreigners, only to encounter an attack by mysterious creatures outside Shimmerene. They are tasked by Razum-dar with investigating the decree's effects on the populace, as well as the nature of the attack.
Featured Image
---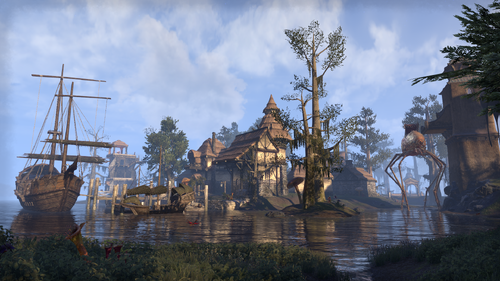 This image captures Seyda Neen, a remote Imperial port town in south-western Vvardenfell. Located in the Bitter Coast region, it is considered the "Gateway to Vvardenfell," because it is the closest settlement to the mainland of Morrowind.
Affiliates of The Elder Scrolls Wiki
---
Helping out
---
Welcome to The Elder Scrolls Wiki! Feel free to register and contribute to this wiki. Everyone is free to create a new page or edit any existing one.

Have a question or suggestion? Ask an administrator!
You can download an
XML data dump
of the wiki's articles for maintenance purposes.
Monthly interview
---

LadyNerevar is a known member of The Imperial Library's staff and a long-time member of the general The Elder Scrolls community, especially the part that likes discussing and researching lore. Check out the interview with her here: