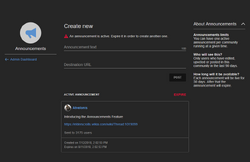 Announcements are important messages sent by administrators or moderators to any user who has made an edit, upvote, or post on TESWiki in the past 90 days. Acting as a replacement for the 2.0 Forums' highlight tool, which notified all users on a wiki of a thread (regardless of activity), announcements went live in an early test on TESWiki on 12 July 2018.
Usage
[
]
The tool can be accessed by admins and mods from this link. Please try not to send more than one announcement per week unless some really big news breaks. Users can disable announcements from specific wikis with the AnnouncementsIgnore script.
Announcements
[
]
If any negative activity trends are to be inferred from this data, it is important to place the hypothesized cause of the trend 90 days prior to the announcements. For example, the decrease in users from August 4th, 2018 to September 1st, 2018 was caused by decreasing user input on the wiki three months before then (May–June), not anything that happened between August and September. Positive activity trends are not subject to such delay.
Notes
[
]