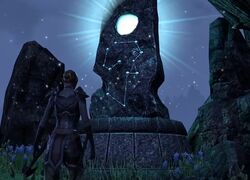 Main article: Mundus Stones (Online)
For other uses, see The Lover Stone.
The Lover is a Mundus Stone located in The Elder Scrolls Online. It can be found in Auridon, in the Summerset Isles, Glenumbra in High Rock, and Stonefalls in Morrowind. Activating the stone reduces the damage the Vestige take from enemy spells until another stone is activated.
The Lover stone appears in Auridon 
Stonefalls
Edit
Glenumbra
Edit
Appearances
Edit