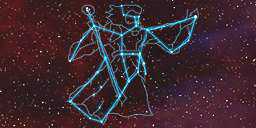 For other uses, see Mage.

"Those born under the Mage have more magicka and talent for all kinds of spellcasting, but are often arrogant and absent-minded."
―The Firmament
The Mage is one of the thirteen constellations existing in the Aurbis and one of the Guardian Constellations, which include the Warrior and the Thief. Its Charges are the Apprentice, the Atronach and the Ritual.[1] This constellation contains the Planet Julianos, which is also sometimes called the Eye of the Sage.[2] Since the Dwemer didn't believe in magic, they called this constellation "the Mechanist" instead.[3]
Mage's verse
Edit
"Wise mage orders... Apprentice learning... Ritual turning... Golem burning... Through the night."[4]
In-game effects
Edit
All skills associated with magic increase 20% faster
Leveled increase in magicka
Appearances
Edit
References