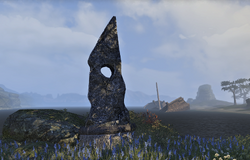 For other uses, see The Tower Stone.
The Tower is a Mundus Stone located in The Elder Scrolls Online. It can be found in Grahtwood in Valenwood, Stormhaven in High Rock, in Cyrodiil, and in Deshaan in Morrowind. Activating the stone confers a permanent increase to maximum Stamina until another stone is activated.
The Tower Stone in Deshaan lies just south of the Grove of the Abomination, which is southeast of Narsis and due west of Muth Gnaar.
The Tower Stone in Cyrodiil is found northeast of Arrius Keep in Ebonheart Pact territory, at the base of White Fall Mountain.
Appearances
Edit
Community content is available under
CC-BY-SA
unless otherwise noted.