Locations
Edit
North of Embershard Mine (across the river), and east of Anise's Cabin near the stairs that lead to an iron ore vein. The note is in the inventory of a dead treasure hunter just north of the waterfall closest to Riverwood.
South of Purewater Run. The note is carried by a dead Treasure Hunter.
Between Stillborn Cave and Journeyman's Nook. Imagine a straight line on the map between the 2 places. A dead treasure hunter can be found along that line. The note is in the dead treasure hunter's inventory.
Southeast of Ragnvald Temple, in a Treasure Hunter's inventory. 
I'm close to finding the <Alias=Item>. I've tracked it down to <Alias=Dungeon>. It's apparently guarded by a <Alias.ShortName=Boss>.
Reading this note starts a Miscellaneous Quest to go to the specified location and get the item.
Possible aliases
Edit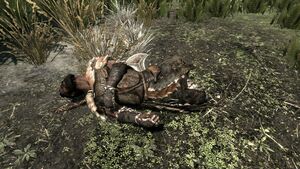 The item and the boss encountered are both leveled to the Dragonborn (at the time they received the note and the quest was started).
Appearances
Edit
Community content is available under
CC-BY-SA
unless otherwise noted.