m

Line 1:
Line 1:
 
+

{{Away}}

 

{{Patroller}}

 

{{Patroller}}

 

{{Quote|Sheogorath is already inside each of us. You have already lost.|Ravate|Myths of Sheogorath}}{{Quote|Sleep is for the weak|Isran|The Elder Scrolls V: Dawnguard}}

 

{{Quote|Sheogorath is already inside each of us. You have already lost.|Ravate|Myths of Sheogorath}}{{Quote|Sleep is for the weak|Isran|The Elder Scrolls V: Dawnguard}}
---
Revision as of 23:21, 5 August 2016
This user is Away
"This TESWikian has worked very hard and is in need of a break."
—Hermaeus Mora

This user is on their break and has disappeared into Oblivion. Queries for this away member should be directed toward their talk page.
Patroller
"I mostly deal with petty thievery and drunken brawls. Been too long since we've had a good bandit raid." —Hold Guard

This user is a Patroller on TESWiki. They have the ability to swiftly rollback undesirable edits, rename poorly titled images, and scout out new pages to ensure they are up to snuff. Questions for this patroller should be directed toward their talk page.
Hello!
I started with Skyrim, but have played Morrowind and Oblivion. I also play Elder Scrolls Online, and have been an editor for the Wiki since August. I was voted MOTM for October 2015 and became patroller in January 2016. You will be able to find me on chat regularly and frequently.
| | |
| --- | --- |
| | This user is from the United Kingdom. |
Bronkiin
As I'm sure the most eager scholars of Tamrielic languages will know, Bronkiin translates as NordBorn in Dovahzul. Bronkiin was my Nord character from Skyrim and Oblivion, and on forums it is my Elder Scrolls alias.
Vinuin
For those who care, you'll find me as Vinuin (@Bronkiin), a Bosmer Nightblade, on Elder Scrolls Online. Here is a gratuitously dramatic screenshot...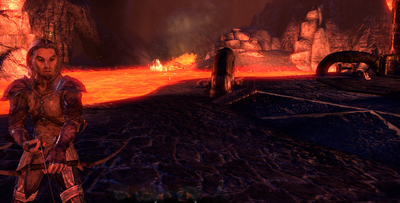 | | |
| --- | --- |
| | This TESWikian is knowledgeable about Online. |
On the Wiki
I am a member of Guild Online, and my contributions largely consist of adding images for NPCs. I am also trying to structure all things ESO in a comprehensive and consistent way. When I have the time, and progress has been made on ESO articles, I intend to help salvage our Lore articles. They need work... 
| | |
| --- | --- |
| | This TESWikian was a member of Guild Online |
Projects
Ongoing
Add 10 new The Elder Scrolls Online NPC images a day to articles. Joint project with Atv.
Add quotes to ESO NPC articles.
Revamp the Getting Started page.

Standardise ESO city pages to the ==Locations==, ===Location,===, *Sublocation layout. Create a prototype page.
Add all relevant characters to the Kragenmoor Characters page.
Find out in what bloody province Reaper's March is in the Second Era.
Sort out ESO NPC services
Combine prerequisites and duties to create a list of expectations of our staff.
Future
My Featured Images Gallery
Note to Self
Vampire Bloodline/Clan cats
Review Yurts
Representation of Morrowind Location IDs needs standardising
The Elder Scrolls Wiki:Staff needs updating
Authors for Online books who are not characters: Are they Online or Authors.

If it is known that they wrote a book, but the book itself does not appear, are they still marked as an author?

Auto refresh for RC?
Champion of the Mages Guild. Do we do pages like this?
2920, vol 05 - Last Seed- redirects to volume 8?
Book Categorisation:

Shalidors Library + Eidetic Memory = All in-game books.

What to do with books that appear everywhere?
How will lore location pages work?
Chillrend; Dragonbane. Do they need list of IDs for all levels?
Occupation pages
NPCs ESO- How specific for location? Inclination- mention sublocation + area/town
Orsinium characters need categorising by occupation
When do we put something under "Interactions"? Does it have to be a quest in which they are seen, or directly invovled? Ie. What is a related quest?
Create a list of NPC and Location name inconsistencies.
City/region page layouts need standardising. The Elder Scrolls Online
Weight and Value on book templates for Online?
Lore categorisation
Stalls
Sort out Silvenars and Green Ladies
Personality for character articles? uh...
"include a "powers and abilities" section on all relevant character articles, especially for God characters where said powers and/or abilities are stipulated." On CA style guide? Not so sure
Arena Items
Articles on Factions and their members. How do we distinguish the two in practice?
Haerdon's name changes to Haerdun after the first quest.
*Disclosure: Some of the links above are affiliate links, meaning, at no additional cost to you, Fandom will earn a commission if you click through and make a purchase. Community content is available under
CC-BY-SA
unless otherwise noted.