Retired Staff
"Training? Goodness me, I'm retired! I'm afraid combat doesn't interest me any more." ―Pranal

This user is a retired staff member on TESWiki. After serving their time protecting the wiki from trouble and guiding newer members, Deyvid Petteys has since stepped down from their former role and is hoping the Dark Brotherhood doesn't come after them during their retirement. You can message them on their talk page here if you need something, though they may not respond.
Hello Elder Scrolls peoples! I'm a former Bureaucrat 'round these parts. I'm also an admin over at the Chronopedia. I've been editing Wikia since March of 2011, but I've been editing Wikipedia far longer (userpage). You can find me derpin' around the IRC, pretending to get things done, and raging about the changes I would like to see on the wiki. As far as editing goes, I occasionally pick up projects, abandoning these for random articles that need fixing. I prefer to edit Lore, Characters, Races, and anything related to mages. While I enjoy contributing large chunks of text to articles, I also enjoy writing help pages and style sheets for use by other members of the wiki. I know a thing or two about templates, but you're better off asking Halo or Flightmare, my slaves gay lovers friends. Although I have a degree in English Literature, I'm renowned for my poor spelling. Especially on the IRC, where spellcheck cannot save me. :D
Now playing
Edit
Awesome stuff
Edit
Userboxes
Edit
This TESWikian is a

Mage

.
| | |
| --- | --- |
| | This TESWikian is an expert on Oblivion. |
Elder Scrolls games I've played
Edit
Other, non-TES games I love
Edit
Vampire: The Masquerade - Bloodlines
Vampire: The Masquerade (Tabletop RPG)
Unhallowed Metropolis (Tabletop RPG)
Favorite books
Edit
Frankenstein
Dracula
Interview with a Vampire
The Vampire Armand
Memnoch the Devil
The Witching Hour
Catcher in the Rye
Harry Potter series
Jane Eyre
Sense and Sensibility
The Neuromancer
Random facts about me
Edit
Favorite color: Yellow
Preferred music genre: House, Alt. Rock, Industrial
Favorite band: Hole
Favorite poet: William Carlos Williams, Stan Rice
Favorite author: Anne Rice
Favorite season: Autumn
Star Wars or Star Trek: Star Wars
Pepsi or Coke: Coke
Weapon of choice in the event of zombie apocalypse: Shotgun
Favorite School of Magicka: Alteration
Favorite spell: Feather
Favorite faction: Mages Guild
Favorite Daedric Prince: Azura
Favorite TES game: The Elder Scrolls IV: Oblivion
Favorite quest: Whodunit?
Favorite city: Solitude
Favorite character: Erandur
Skyrim spouse: Marcurio
Favorite race: Altmer
Pages I built up
Edit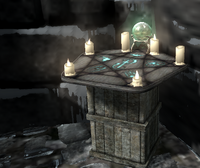 Some pages I significantly contributed to, built up from stub status, or created from nothing. These are not in any particular order of importance. These are what I consider to be the "cream of my editing crop".
Help pages
Edit
Help pages and guides I wrote from scratch to help out other editors.
Pages I created
Edit
Tons of things!
Faralda - First page I created on the wiki
So many I can't remember.
*Disclosure: Some of the links above are affiliate links, meaning, at no additional cost to you, Fandom will earn a commission if you click through and make a purchase. Community content is available under
CC-BY-SA
unless otherwise noted.