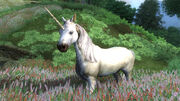 I'm still around but I don't edit all that much anymore.
I'm a 19 year old college student in South-Eastern Ohio. I was majoring in Web Design but am reevaluating that due to lack of demand in my area (I could often look out the window during class and see Amish people, I took that as a bad sign).
The email link on the sidebar works or there's always the Talk page.
Also if anyone on here would like a Gmail, Google Spreadsheet (I'm not sure if this invitation works right), or Writely invitation let me know. I find all three services useful when working on this site and would be more than happy to share them.
The Elder Scrolls and Me
Edit
Before buying Oblivion around Easter I'd never played an Elder Scrolls game before and had only heard passing mentions of Morrowind (Which I'm seriously considering buying.) I was initially amazed by the fact the every NPC had a schedule and followed it whether you were there to see it or not. Then I found something that really amazed me and eventually led me here, the books. I couldn't believe that there were in game books that connected the lore of past games with this one, that could lead you to discover new places in the game, teach you knew skills, or just read to kill time.
I have a gaming PC (Nothing too fancy, a Gen 3 Dell XPS) but prefer leaving games to a console. This however leaves me at a disadvantage on here as I can't take screenshots.
Wiki Goals
Edit
Current Goals
Edit
Pages for all waters, rivers, and roads.
Stubs for all settlements.
Maintaining proper layouts for book and location pages.
Cleanup of Category:Location page. - on hold
Making a more informative, updated About page.
Removal of stubs on pages meeting all criteria of their respective format.
Completed Goals
Edit
Random Pointless Achievements
Edit
I've jumped out of Bravil. Things don't load correctly until you go back through the gate. Even though I was heading back into the city it loaded like I was going outside.
I made a Firefox search plug-in for this site before noticing that it had already been done. I even made an installation program for it. Both were firsts for me.
*Disclosure: Some of the links above are affiliate links, meaning, at no additional cost to you, Fandom will earn a commission if you click through and make a purchase. Community content is available under
CC-BY-SA
unless otherwise noted.