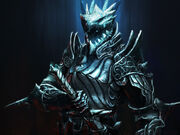 I am Jacob Ravensgate here to save all users and pages from the purges of evil.
I was Born in the Kingdom of Tressa to its rulers! My father Henry Ravensgate and mother Laura Ravensgate. I am rivals with Tristan Lockridge the Prince of the Kingdom of Alakon (A kingdom my kingdom has been at war with for centuries) at the young age of 14 I joined the Royal Cavalry and become Commander when I reached 18. We travelled around the land vanquishing many foes such as Dragons, Giants, Ghost, Demons, and Mortals who dare to challenge me. m superior over any Dragonborn and admin who dares to face me! Remember this warning
What is the best race of Skyrim
</poll>
</poll>
</poll>
</poll>
My Favorite pages
Edit
*Disclosure: Some of the links above are affiliate links, meaning, at no additional cost to you, Fandom will earn a commission if you click through and make a purchase. Community content is available under
CC-BY-SA
unless otherwise noted.