Retired Staff
"Training? Goodness me, I'm retired! I'm afraid combat doesn't interest me any more." ―Pranal

This user is a retired staff member on TESWiki. After serving their time protecting the wiki from trouble and guiding newer members, Jaymz6 has since stepped down from their former role and is hoping the Dark Brotherhood doesn't come after them during their retirement. You can message them on their talk page here if you need something, though they may not respond.
As I am no longer active on this wiki if anyone needs to contact me I am easiest to find at:
Mod List A list of my mods published on the Nexus.
Mods I currently work on:
Perkus Maximus by T3nd0 (Bugs/PR/XMLs)
PerMa Compatibility and PaMa Patches (PCaPP) (XMLs/Patches)
Mods I have previously worked on:
Skyrim Redone (Bugs/PR/XMLs/Patches)
SkyRe Compatibility and ReProccer Patches (SCaRP) by Xathra (USKRP:Unofficial SkyRe Patch/XMLs/Patches)
Combat Evolved by CrushBoss (SkyRe version)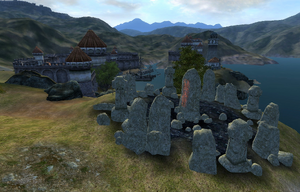 User pages
Edit
Sandboxes:
I'm a sucker for RPG/Action games. Here's a short list of some of the games I have/play:
Final Fantasy VII
Edit
FF7 can be downloaded for the PC from SquareEnix, for $10, here. The classic game optimized for modern PCs. Now features: 36 Achievements, Character Booster to instantly max out all characters, and cloud saves to continue a game from any PC. This is part of the 25th anniversary of the series (FF1-Dec, 18 1987)
Names I use in-game
Edit








(Raulfin; Bosmer assassin)






(Jaymz; Orsimer warrior)
| | |
| --- | --- |
| | This TESWikian is a Grammar Nazi. |
| | | |
| --- | --- | --- |
| | This TESWikian hails from Mississippi in the USA. | |
It has been May 01 2002 00:00:00 EST since Morrowind's release.
It has been March 20 2006 00:00:00 CST since Oblivion's release.
It has been November 11 2011 00:00:00 CST since Skyrim's release.
It has been April 04 2014 00:00:00 CST since Online's release.
*Disclosure: Some of the links above are affiliate links, meaning, at no additional cost to you, Fandom will earn a commission if you click through and make a purchase. Community content is available under
CC-BY-SA
unless otherwise noted.