"Ugh! I will never be able to get this out of my fur..."
―-Hero of Kvatch, upon collecting Blood Liqeuor.
Dragonsoul the Khajiit Warrior-Thief
Edit
J'Koulda the Khajiit Spellthief
Edit
Anything relating to the guild or any business or discussion, please refer to my talk page. Thanks!
Differences
Edit
Relativity
Edit
Dragonsoul is aligned with Dementia wholly and completely, and is not overly fond of Manics and "ordinaries" or, in other words, those that like to think themselves completely sane. Nobody is sane. Sane is relative. Time is relative. Space is relative. Dimensions are relative. Humanity is relative. Morality is relative. Physical Existence is relative. Reality is a falsehood, as it can be altered by relativity.
Definitives
Edit
Law is definitive, but herein are "loopholes". Consciousness is definitive, but bound to our bodies. Self-awareness is definitive, but the conditions for self-awareness are relative.

"Blessed are the obsessed, for their courses are clear."
I have a perfectly normal and healthy obsession with the bones.

Whenever I enter a dungeon with bones, they cry out to me, so I gather them up and take them home. I put them in my basement in a barrel, and in a neat little (actually really big) pile on the floor. They keep each other company, and I come down to admire them all. Sometimes, I take all the bones I can carry to an entirely different realm and burn them all into Ashen Remains. Bone Count (does not include bones on the floor):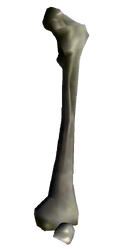 79 Arm Bones
51 Leg Bones
22 Shoulder Blades
73 Pelvises
532 Ashen Remains
5 Shambles' Skulls
Favourite Book: Blessings of Sheogorath
Edit
For Our Lord Sheogorath, without Whom all Thought would be linear and all Feeling would be fleeting.
Blessed are the Madmen, for they hold the keys to secret knowledge.
Blessed are the Phobic, always wary of that which would do them harm.
Blessed are the Obsessed, for their courses are clear.
Blessed are the Addicts, may they quench the thirst that never ebbs.
Blessed are the Murderous, for they have found beauty in the grotesque.
Blessed are the Firelovers, for their hearts are always warm.
Blessed are the Artists, for in their hands the impossible is made real.
Blessed are the Musicians, for in their ears they hear the music of the soul.
Blessed are the Sleepless, as they bask in wakeful dreaming.
Blessed are the Paranoid, ever-watchful for our enemies.
Blessed are the Visionaries, for their eyes see what might be.
Blessed are the Painlovers, for in their suffering, we grow stronger.
Blessed is the Madgod, who tricks us when we are foolish, punishes us when we are wrong, tortures us when we are unmindful, and loves us in our imperfection.
I Have Boxes?
Edit
| | |
| --- | --- |
| | This TESWikian plays on the PlayStation 3. |
| | |
| --- | --- |
| | This user plays on PC via Steam. |
| | |
| --- | --- |
| | This TESWikian was a member of Guild Oblivion |
| | |
| --- | --- |
| | This TESWikian is an expert on Oblivion. |
| | |
| --- | --- |
| | This user is knowledgeable about Skyrim. |
| | |
| --- | --- |
| | This TESWikian is knowledgeable about Lore. |
| | |
| --- | --- |
| | This TESWikian is a Grammar Nazi. |
This TESWikian is a

Thief

.
Community content is available under
CC-BY-SA
unless otherwise noted.