I'm just a wandering Companion. You can find me throughout the web using the same username, jacensolodjo, caedussolo, or JacenWolffe. If I'm not active here, you can generally find me at Nukapedia.
Mahalo, gracias, danke, thank you for stopping by!
Note: Eventually after working on the below Skyrim areas, I hope to move on to Oblivion and then Morrowind.  Listing includes all relevant DLC, unless otherwise specified. Also may not go in order of listing. May even bounce around depending on mood. I hope to also do some stuff for ESO beyond the alphabet project.
Estimated time of completion for Skyrim: December 2021 AD.
Estimated time of completion for Oblivion: N/A.
Estimated time of completion for Morrowind: N/A
Work on Creatures (Skyrim)  COMPLETE
Work on Weapons (Skyrim) COMPLETE
Work on Books (Skyrim)
Work on Quests (Skyrim) Complete except Dragonborn
Work on Locations (Skyrim) Completed Dawnguard, Base and Dragonborn still needed
Work on Characters (Skyrim)
Work on Non-Weapon Items (Skyrim)
Work on remaining from last 2 decades aka Morrowind, Oblivion, and Elder Scrolls Online TBD
Work on Lore TBD
If You See Something, Say Something
[
edit
|
edit source
]
If you find an article you would like me to take a look at, please feel free to say so on my talk page. I can't guarantee I will be quick in doing it but I will get to it. Additionally, if you have an issue with a large edit of mine I'd prefer you come to me and be polite rather than going in and demolishing what I already spent precious time on (aka don't revert and move on please if you only have issue with one thing just y'know edit it out and leave the rest intact). Or at least look at my edit note for why I changed it (such as adding in Oxford commas) before saying something about what you don't like. Some things simply are not worth an argument. Most importantly: If you wouldn't want someone barging in and acting condescending to you, don't do it to me. Mistakes and wrong interpretations do and will happen, don't make the situation worse than it needs to be. Things can be settled calmly and politely and I am always willing to compromise as a first option.
Soryn the Nord (Modded)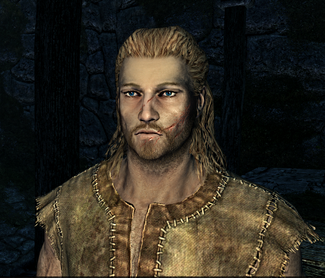 Shane Shepard Pic TBA
Sheres Pic TBA
| | |
| --- | --- |
| | This TESWikian is from the United States. |
| | |
| --- | --- |
| | This user is male. |
| | |
| --- | --- |
| | This user plays on PC via Steam. |
| | |
| --- | --- |
| | This user is knowledgeable about Skyrim. |
| | |
| --- | --- |
| | This user is knowledgeable about Oblivion. |
| | |
| --- | --- |
| | This TESWikian is a fan of Hircine. |
*Disclosure: Some of the links above are affiliate links, meaning, at no additional cost to you, Fandom will earn a commission if you click through and make a purchase. Community content is available under
CC-BY-SA
unless otherwise noted.