This TESWikian is a

Thief

.
Felesha Numaïr
Edit
(Fell-E-Shah New-Meer)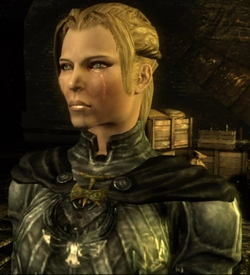 .                           | Haafingar, The Pale, Eastmarch
Felesha is a master of stealth, and can remain completely undetectable in nearly any environment. She can pick any lock, no matter the difficulty, without breaking a single pick, and she can steal the clothes off a man's back without them even noticing. While preferring to duel wield both Chillrend and Grimsever in combat, late in her Skyrim adventures she has choose to dabble in other arts.
She has since mastered nearly every other skills, save for alchemy and speechcraft (by far the most tedious).
She is also highly skilled in the way of the Thu'um. She typically carries the Amulet of Talos, as well as his blessing. She knows all the shouts that can be found throughout Skyrim, and many ones from beyond.
Master Skills: Alteration, Archery, Block, Conjuration, Destruction, Enchanting, Heavy Armor, Illusion, Light Armor, Lockpicking, One-Handed, Pickpocket, Restoration, Smithing, Sneak, Two-Handed
Associates
Edit
Background
Edit
What follows is a very long story. Be warned.
Click to show
Born in 4E 166 in the Imperial City Waterfront, Felesha was raised among the beggars and the poor. Her mother died while giving birth to her, leaving her an only child to be raised by her now widowed father. However her father was already an established member of the Cyrodiilic Thieves Guild, so he was able to provide for them. While she was still a young child, out of little more than idle boredom, she pleaded her father to teach her the tricks of his trade. She was a natural.
When Aldmeri Soldiers burst through the door of their small home during the Aldmeri Dominion's invasion of the Imperial City, her father was killed while sacrificing himself in an attempt to stall them, giving Felesha enough time to escape the house and flee into the city to seek shelter. This turned out to be a mistake, as the city was quickly occupied by the invading forces, and she could no longer escape the city. She fell onto her few skills of thievery and knowledge of the city to survive the coming days. She never stayed in the same spot for more than a day, traveling mostly by the city's sewer system, and stealing only just enough food to survive. This forced her mind to mature well past her body, and when the Imperial forces finally retook the city a year later, she was far from the child she had once been.
With her home destroyed, and all her family dead, she was forced to become one of the many beggars of the Waterfront she had seen through the many years of her childhood. She was far from alone however; many of the city's inhabitants had fallen on hard times with everything they owned being destroyed by the Aldmeri. After six years as a beggar on the streets she had acquired enough wealth, through charity and other means, to be able to leave the city. After her many ordeals here, she had no love for the Imperial City, and had no desire to stay. She had heard whispers and rumors of remnants of the Thieves Guild existing in Anvil.
The day she intended to leave, she returned to find every septim she had amassed gone. All of it had been taken by another thief. She searched the city for three days for any sign of this thief. Eventually she found him; a young boy, barely older than herself, from one of the ships docked in the Waterfront Harbor. A boy, claiming to be a pirate, had taken everything she owned, in her own backyard. Furious, she broke into the ship, and when she found him...she threw him into Lake Rumare. This did not go unnoticed, and she became a wanted woman by the Imperial guard. She fled the city with what few belongings she had, and a few items from the ship that less than belonged to her.
She traveled the Gold Road to Skingrad. The road was dangerous, and she was attacked more than once by the beasts of the wild. Luckily however, among the items she had stolen from the pirate ship was a dagger, and she was not afraid to put it to use. Mostly she was able to scare off Wolves and such before they ever truly tried to kill her, but shemore than once had to kill a Rat or Mudcrab. Once she was even set upon by a troll, but was saved by a passing adventurer. He said his name was Thyrin, and he was traveling to Cheydinhal. Other than that he would reveal no more, and continued on his way before Felesha could ask any more of him. After a long journey she finally arrived in Skingrad. She did not even make it past the gate.
Somehow news of her exploits on the pirate ship in the Imperial city had beaten her to the city, and the guards had been looking for someone of her exact description. She ended up spending two years in the Skingrad dungeons for the assault of the boy pirate and the theft from the ship. All of her possessions were taken and assumed stolen. When she was finally released she continued her journey to Anvil, still determined to join the thieves guild there. While on the road she was ambushed by bandits. They captured her and took her back to their hideout, and locked her in a cage. Knowing all too well what a group of bandits would do with a defenseless 17 year old girl, she quickly tried to plan her escape. They did not hold her for one night. She quickly picked the lock of her cage, silently searched the hideout for their treasure room, and took as much of their loot as she could carry without weighing herself down. She escaped the bandit's den and finally made her way to the city of Anvil.
When she finally arrived in Anvil, she had found all her work had been for naught. As much as she looked, and as much as she asked around, there was no trace of a thieves guild anywhere in Anvil. She began to wonder if they had left at some point during her incarceration, or if the rumors she had heard long before were even true. After much thought, she couldn't actually remember from where she had first heard them. After a week of staying at the town inn, the money she had managed to take from the bandit den was starting to run dry. The innkeeper suggested that she try going to Castle Anvil, as the Castle was looking to hire a new servant. With Felesha's only real skill in thievery, and her span in the Skingrad dungeons still fresh in her mind, she had little choice but to seek employment at the castle.
She was taken in and served as a servant for five years. While she did not enjoy the position per say, she made several friends among the other staff. Felesha had expressed her longing for something greater than working as a servant for the rest of her life many times among them. One of them in particular, Orrin, shared her itch for adventure. One day Orrin approached her and told her that he had decided to leave, he could not stand to stay in Anvil forever to serve the will and whim of others. He wanted to be his own man, and adventure across the land in hopes of fame, glory, and riches. He offered her the chance to join him. She did not hesitate in doing so. He told her that he had friends in Cheydinhal that may be able to help them, and that they should head there first. Orrin was able to acquire some basic weapons being that he himself was the castle blacksmith's apprentice. Anything else they needed they were able to buy from the city's blacksmith by pooling their wealth together (of which Felesha noted was mostly her money, as apprentices are not payed much if at all). With their basic equipment and limited supplies, they left that very night.
They traveled the Gold Road, and as they passed by the ruined city of Kvatch, they were stopped by a highwayman. Before the highwayman even finished demanding his road toll from them, Orrin ran his iron sword through the man's heart. Among the would-be thief's belongs was an elven dagger, a much higher quality weapon than the simple iron ones they carried. Orrin however offered the dagger to Felesha, simply stating, "Daggers aren't my type of weapon". Gladly took the weapon, and after she and Orrin dispatched three more bandits while on the Red Road (all on separate occasions), she asked him to teach her the finer aspects of swordplay. He obliged, and in return she tried to teach him the art of thievery. Neither of them learned very well. While on the Blue Road they saw very little of bandits and brigands, but still were attacked by wolves and such. Do to this lull in their adventure, Felesha for the first time saw fit to ask Orrin what he intended to find in Cheydinhal. He replied by saying that he wasn't sure. His father had told him long before while he was still young, if he was ever in need, to travel to Cheydinhal and seek out a man named Kylimak. With the memory of her ghost hunt for the Thieves Guild in Anvil, they approached the city of Cheydinhal.
Upon entering the city, she was amazed by how lavish the city was. There was hardly any poor or beggars within the city. It seemed as if almost everyone there was well off. They all seemed so wealthy, they likely wouldn't even notice when things went missing. Still after some searching they managed to find a shifty argonian by the name of Dar-Zee. They asked him where they could find the man Kylimak. That name seemed to give him pause. He stood there deep in thought for some time, to the point it made Felesha unconformable, then he told them to follow him. He lead them north out of the city and toward Lake Arrius. Felesha began to suspect that he was leading them away from the city in an attempt to secretly murder them. Just as she was going to share her suspensions with Orrin, they came across a small shack in the hills. Dar-Zee lead them inside. Inside the shack, it looked as if the thing had been abandoned for quite some time. But the small home was still enough to remind her of days long forgotten. Orrin, obviously having came to the same suspicions that Felesha had earlier, accused Dar-Zee of trickery and began to draw his sword. When Dar-Zee moved the old bed to reveal a trap door, Orrin stayed his hand. The three descended through the trap door into a small cave beneath the home. Here they found the many signs of life. The shack above was not wholly abandoned, but rather a facade to hide the entrance to this den. When they entered the main hall, Dar-Zee bid them to go inside. When they entered, Felesha was astonished by what they found.
When they entered the room, there at the head of several men and women stood Thyrin, the man that had saved her life so many years before. Still awe struck by the coincidence, Orrin was the first to speak. "We've played your game. Where is Kylimak?". "Dead" said Thyrin, "Killed not 5 years ago by someone less than please by his exploits. I lead this guild now. What business did you seek with Kylimak?". Orrin was surprised by this. They had never truly known what they would do when they finally meet Kylimak. This time it was Felesha that spoke up, "Did you say guild? What such guild is this?". "It seems that you are even less informed than you first appeared. Why we're the thieves guild!". The cruel irony left Felesha completely speechless. She had wasted seven years of her life in the pursuit of the Thieves Guild, and here she stood in their halls facing their leader, a man she had meet at nearly the start of her journey. Felesha was completely stunned, luckily however, Orrin spoke for her. "We have traveled far from Anvil in search of Kylimak in order to join him. Since you have taken his place, we extend that request to you. Felesha is herself an accomplished thief, and while I lack her skills, I am a proficient warrior". "Stop" said Thyrin, "No need for such formalities lad, you two may join our ranks, but only after a small...test".
They both passed the test and were inducted into the guild. Felesha soon found this was not the guild of her father, but rather a completely different Thieves Guild that had appeared in parallel to it. They certainly lacked the influence of the Theives Guild proper, but were none the less successful. Orrin continued to train Felesha in Swordplay, just as she taught him in thievery. The two soon rose through the ranks, and became friends with Thyrin. He showed no signs of remembering Felesha, but it was not unexpected. It was a chance encounter from many years ago. She would have barely remembered it herself had it not been for the twisted fate that it had represented. Thyrin eventually took a liking to her, and himself decided to tutor her in the sword. In five years they became two of the best established members of the guild, aside from Thyrin himself. It was during this time that tragedy stuck their guild.
A rival "guild", one that had a habit of leaving a bloody trail after all their jobs. Little more than bandits under the title of guild, they seemed to not be a concern at first. Soon however, they started to muscle in on the jobs for Felesha's guild. Worse still, their growing influence and violent methods had begun to draw the attention of the Cheydinhal city guard, not only to themselves, but to Felesha's guild as well. The guards began to attack any thief they found indiscriminately. Jobs became scarce, and the ones they did get were made more difficult. This began a rivalry between the guilds to try to take each others jobs before the other could complete it. After a year of this rivalry, tension in the city guard had risen to a high with the relentless thief and murder. In this time, the leader of the rival guild tipped off the city guard to the location of Felesha's guild, claiming they were the ones who had committed the murders. Effectively destroying their rivals, weakening the guard, and relieving the pressure on their own guild all in the same strike, and they didn't have to lift a finger. The guard assaulted the den in force. 2/3 of the guild was killed in the assault, among them Thyrin. With the guild crippled and headless, the rival guild went on a rampage.
Felesha learned of this deception. Both enraged and sorrowed by the death of her friends and colleges, she vowed vengeance against the rival guild. She infiltrated their hideout, and silently located their leader. When she found him, she took dagger given to her by Orrin, and drove it into the man's heart. She did not release the blade until he stopped moving. And there she left it, buried in the man's chest, both as a kind of closure, and a sign.
When she returned to her own guild hall, she was welcomed by Orrin and the surviving guild members. They offered her the seat of Guild Master, as she was the best among them, and granted them the vengeance they all desired. The rival guild disbanded after the death of their leader, Felesha's guild regained its former influence and strength, new members were recruited, the jobs returned, and for seven year Felesha lead the guild to glory and riches alongside her dear friend Orrin.
Having lived successfully as a thief and accomplishing everything she could have hoped at still so young an age, she decided to travel to her ancestral homeland, Skyrim, to find her roots and search for herself. She handed the guild to her dearest and most trusted of friends, Orrin, and left. She traveled north into the Jerall Mountains toward Skyrim. Almost as soon as she crossed the boarder she was caught in an Imperial ambush. They took all the belongings she had brought for her journey and throw her in a wagon with the captured rebels. But this was not the first time she had everything she had taken from her, and it would not be the last. She would escape.
*Disclosure: Some of the links above are affiliate links, meaning, at no additional cost to you, Fandom will earn a commission if you click through and make a purchase. Community content is available under
CC-BY-SA
unless otherwise noted.