Hi everyone, I realize there's already a blog on how to extract audio files. But I'd like to share a method which I personally found a lot easier.
What you need
Starting the Construction Set
Start the Construction Set.
Select 'File' and 'Data...'
Double click 'Oblivion.esm', 'DLCShiveringIsles.esp' or 'Knights.esp'. It depends on the audio you're looking for. With the DLC, however, don't forget to select Set as Active File in the bottom left of the Data screen.
Note: Importing the data may take a while, give it some time.
Finding the dialogue
Alright, let's say I'm looking for dialogue from an Oblivion character named 'Pinarus Inventius' His article says he's an Imperial, so that's where we'll be looking first.
Select 'Actor', 'NPC' and 'Imperial'.
Select 'Imperial and 'Male'.
Hit P for Pinarus or scroll down until you find his name.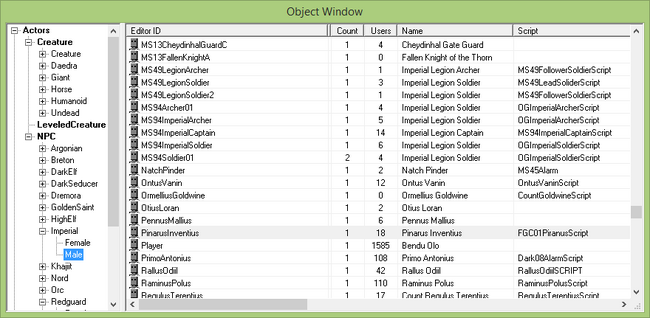 Double-click it.
Select 'Dialogue' in the bottom left.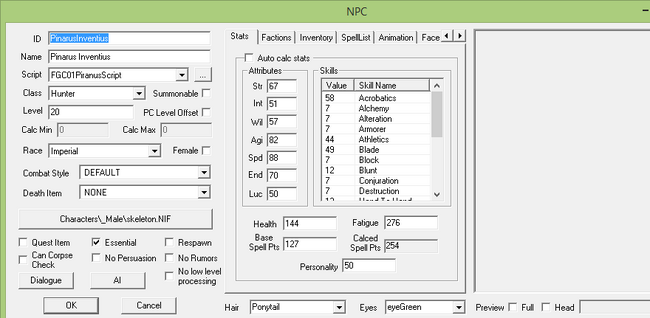 Select the type of dialogue you're looking for, I'm going to go with some Quest related dialogue. He's in a quest involving Mountain Lions, and there's a 'MountainLionsTOPIC' title in the Topics option of dialogue. Let's select that.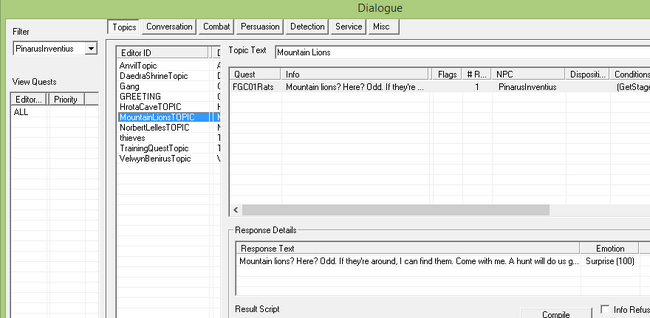 Double click the line of dialogue underneath the 'Topic Text'.
Alright, let's leave the Construction Set be for now.
Unpacking the .bsa file
Open up your BSA Unpacker.
Select 'Open' in the bottom left of the window.
Find your Oblivion directory. (If you've got the games via Steam it's: Program Files (x86), Steam, steamapps, common, Oblivion
Select the 'Oblivion - Voices1.bsa' file.
Choose 'Extract all' and choose the location where you want the .mp3 and .lip files to be.
Do the same for the 'Oblivion - Voices2.bsa file.
You now have all of the Oblivion dialogue stored in a folder on your PC.
Finding the .mp3 file
Let's go back to the Construction Set. If you haven't touched anything in the meantime, you should still have the 'Edit Reponse' window open.
In the Edit Response screen, copy the text behind 'Voice Filename' (FGC01Rats_MountainLionsTOPIC_0003662B_1)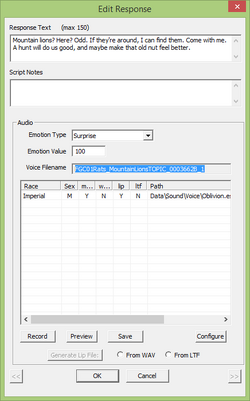 Go to the folder in which you've stored all the .mp3 and .lip files.
Select 'sound' - 'voice' - 'oblivion.esm'
Our NPC was an Imperial, and he was male. So select 'imperial' and 'm'
Paste the previously copied text (FGC01Rats_MountainLionsTOPIC_0003662B_1) in the search bar at the top right of the window.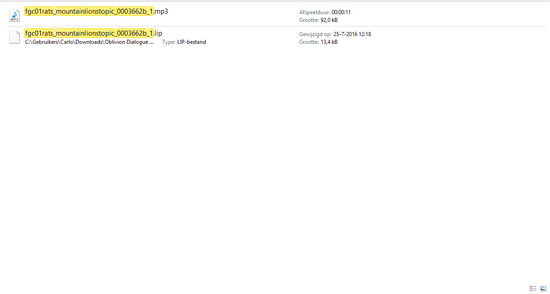 An .mp3 and a .lip file with that exact name should show up. Copy the .mp3 file and paste it in a seperate folder.
Converting the .mp3 file to .ogg
Because uploading a .mp3 file to the Wiki is not allowed and not possible, we're going to have to convert the .mp3 file to .ogg. For this you're going to need an online file converter. I found audio.online-convert.com to be the best one.
Import your .mp3 file.
Select 'OGG (.ogg files)' and 'Extreme 320 kbit/s'.
And click convert. The converting might take a few seconds/minutes depending on your internet speed. After the converting is done, you can download the file.
And there you have it, in-game NPC dialogue as .ogg file. All that's left now is to upload it to the Wiki and put it in an Audio Quote.

"Mountain lions? Here? Odd. If they're around, I can find them. Come with me. A hunt will do us good, and maybe make that old nut feel better."
―Pinraus Inventius
*Disclosure: Some of the links above are affiliate links, meaning, at no additional cost to you, Fandom will earn a commission if you click through and make a purchase. Community content is available under
CC-BY-SA
unless otherwise noted.