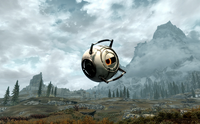 It's finally here! The Elder Scrolls Creation Kit, a tool which allows players to develop their very own Skyrim modifications, has finally been released. You can download the Kit from Steam by going to the "Tools" menu on the "Games" tab and choosing the "Creation Kit". Steam also added Skyrim to their Steam Workshop, which provides an easy interface for modders and players to upload and download mods. If you're a first-time modder, or you just need to brush up your skills, be sure to check out Bethesda's YouTube channel for tutorial videos!
Bethesda also promised us a nice surprise to make this great day even better. And a nice surprise it is: a high resolution texture pack! Now you can experience Skyrim with... well, even better graphics!
And there's even more! Bethesda teamed up with Valve and released their very own "Space Sphere" mod, which adds a robot from Portal 2 which follows you around through the game. The mod has since been removed from Workshop, but we expect it to be back soon (Update: Bethesda and Valve told Joystiq the Workshop is currently having some issues, which caused the mod to disappear. It should re-appear shortly).
Side-note: If you're looking to expand your Elder Scrolls game collection, now's the chance. Valve has discounted all the Elder Scrolls games, so go to Steam and buy them if you haven't yet!
What do you think? Will you give developing mods a try, or will you stick with playing them? Leave your opinion in the comments!
---
Source: Joystiq
*Disclosure: Some of the links above are affiliate links, meaning, at no additional cost to you, Fandom will earn a commission if you click through and make a purchase. Community content is available under
CC-BY-SA
unless otherwise noted.