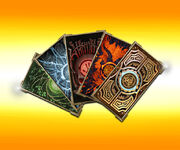 Hey y'all! I'm here this month again with another Elder Scrolls news blog. January was a long month, but now that it's finally over, we're here at Superbowl Sunday tomorrow! Anyway, since this is an Elder Scrolls blog, not a football blog, let's get down into the Elder Scrolls news.
Update 17 + Dragon Bones
For those of you who haven't already heard, a new DLC is coming out for Online, The Elder Scrolls Online: Dragon Bones, which will include a couple of new dungeons. The new DLC, along with it's free patch, Update 17, will be coming out on the 12th for PC, and on the 27th for Xbox 1 and PS4. Since I covered it already last month, and we should have a news blog coming out in greater detail about it soon, for now, if you want more info, you can find it here.
Legends news
Legends doesn't have a lot of important news coming out this month so far, however, it does have a lot of news as a whole. Here's some of the things that's new for Legends.
New Rumble Gauntlet
From today, February 3rd, to the 5th, there's a new Rumble Gauntlet. Join in for your chance to win more cards, gold, and soul gems! The rewards can be seen here (Steam).
New Card Backs
Legends now also has new card backs! Check them out:
Forgotten Hero Collection
Released Thursday, February 1 for USD $9.99 or 1,500 Gold, the Forgotten Hero Collection added 12 new collectible cards, including three unique legendaries, three epics, and six rares. Check out the article here for more.
---
That's all I have for this month, at least right now. I hope everyone has a good month, and has fun watching the Patriots finally get destroyed tomorrow in the super bowl. See y'all around the wiki! – The Crusader of Truth (talk – chat) 17:12, February 3, 2018 (UTC)
Community content is available under
CC-BY-SA
unless otherwise noted.