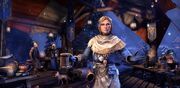 "Celebrate the end of another fantastic year in The Elder Scrolls Online with the New Life Festival."
―Elder Scrolls Online Website
Hey guys! It's officially Christmas season, and with that, it's the New Life Festival season! The New Life Festival is an Elder Scrolls Online event, which began at 10:00AM EST on Thursday, December 14 and will run until 10:00AM EST on Tuesday, January 2, 2018. The New Life Festival is a great opportunity to obtain XP-boosting collectibles, acquire style materials and pages, unlock unique furnishings, and more! Keep on reading down below to find out more about how to get in the holiday cheer!
Joining
In order to join the festivities, acquire the free New Life Festival Scroll from the Crown Store. Using this scroll will allow you to find Breda to the south of Windhelm in Eastmarch. Breda will grant the player the quest "The New Life Festival." Remember that if you are having trouble traveling to Windhelm, you can take a boat or cart from the Alik'r Desert or Malabal Tor, travel by road from The Rift, or teleport to a fellow player or guildmate that's already in the area.
The nine daily quests given are for each of the nine different playable races. The quests listed on their news page are as follows±:
±It's notable that ZeniMax did not include Imperials on this list
Rewards
Completing your fist New Life Festival quest will award you with Breda's Bottomless Mead Mug, which will provide your character with a two hour 100% XP boost. Note that once the festival ends the XP boost will not apply to the beverage.
On the other lists of rewards, you will also recieve a New Life Festival Gift Box for completing each of these quests! This includes more common items such as crafting materials, consumable mementos, and Wolfsbane Incense, and the Skinchanger style item, but also includes:
Skinchanger Motif chapters
New Life recipes
New Life collectibles:

Sword-Swallower's Blade memento
Juggler's Knives memento
Fire-Breather's Torches memento
Mud Ball Pouch memento
Nordic Bather's Towel costume
Colovian Filigreed Hood hat
Colovian Fur Hood hat
A wide variety of lights, lamps, and lanterns for your home to celebrate the Signal Fire Sprint
Roguish Draughts of Stealth and Escape to celebrate the Trial of Five-Clawed Guile
There are also two new furnishings available for purchase from Heralda Garscroft:
The New Life Bonfire – Available for 10,000 gold once you complete the "Snow Bare Plunge" achievement
The New Life Celebrant's Standard – Available for 2,500 gold once you complete the "New Life Celebrant" achievement
Crown Store Stuff
And finally, don't forget to check out the new items that can be found in the crown store showcase, since many of them are New Life Festival themed. You can check out the showcase here!