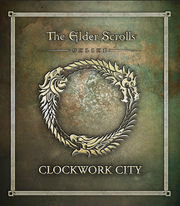 "Enter this mechanical wonderland and uncover a Daedric plot that threatens not only the Clockwork God's creation, but all of Tamriel."
It's time for the
Clockwork City
DLC, the latest expansion to
The Elder Scrolls Online
! Clockwork City is a mechanical city created by
Sotha Sil
which exists outside of space and time. Elder Scrolls Online players can now enter the Clockwork City and discover what it has in store for them.
The PC version has been released, and the Xbox 1 and PlayStation 4 versions will be released on November 7th, alongside with Update 16. Along with the Clockwork City itself, ESO will also be introduced to item transmutation, where you can tailor your armor to match your playstyle. There will also be a new Trial, as well as a new story line for the DLC. To start the DLC, simply travel to any local Mages Guild headquarters in Tamriel and find the note on a nearby table titled "Order of the Eye Dispatch". Read the note to receive the quest "Of Knives and Long Shadows" and begin your new adventure.
Check out the Clockwork City today, and tell us yourselves what you think of it! For more information, see The Elder Scrolls Online: Clockwork City, as well on Bethesda's website here. It is free for ESO Plus members and available for purchase for 2000 crowns in the in-game Crown Store.
Community content is available under
CC-BY-SA
unless otherwise noted.