Fellow Elder Scrolliérs, a new game taking place within the magnificent "Elder Scrolls"-world has been announced!
In celebration of that, I thought it would be fun to host a give-away!
A winner will be randomly picked by the 31st of May, and announced later in a blogpost. I purchased the game my self, but am hosting the give-away on behalf of the whole TES-Wiki staff.
I accidentially, quite a while ago, purchased two copies of the game, and instead of giving the extra copy to one my close friends, I decide to give it to YOU for FREE!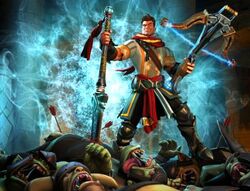 The winner will receive a copy of the awesome game: "Orcs Must Die!" (A Steam user is nessecary in order to play)
The winner must have a Steam user because I will be sending the gift directly through Steam.
This give-away is free, and anyone above the age of 13 may enter!
How to join
All you have to do is write a comment below (with a Wikia account) saying what ever you want. For example:
One day I walked up to a stranger and said: "Oh, the potato is overcooking"
Writing multiple comments will not increase your chance of winning :)
It is as simple as that! Enjoy!