Welcome, Ausir!
---

Hi Ausir, welcome to the Elder Scrolls Wiki! We're building a collaborative source of information for the Elder Scrolls lore, and we need your help. We saw you making some changes to our articles, and thank you for it. Hope you choose to further this project, and that we'll see you around in the future. If you choose to stay, here are some links to help you out: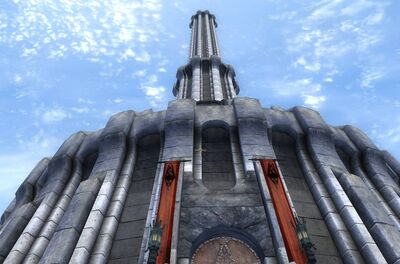 Internal pages:
External Wikipedia pages:
Elder Scrolls policies:
Remember that you should always sign your comments on talk and vote pages using four tildes, like this: ~~~~.
I hope you enjoy editing here and being a Elderscrollian! If you have any questions, see the help pages, add a question to the Forum, visit our official IRC channel, or ask one for our mentors.
--Michaeldsuarez (Talk) (Deeds) 01:31, September 22, 2009 (UTC)
Merging Wikis
Edit
Heh - yeah, I did go fairly overboard recently. lol. (And will do so again shortly). In reply to your proposal - I actually think that this is a very good idea. Yes, its controversial, but, having said that, there is a tendency towards duplicating information otherwise. I see no problem with having this Wiki (or, a different one if the case may be) - having a focus on Skyrim. After all, that is where the focus is right now, as you said.

My only question is a practical one - how would you go about transferring the data? I would suggest that the Elder Scrolls one (and I freely admit im a little biased here) would probably be the one that would be focussed upon if these were grouped into the one wiki, being able to be based upon all of the games in the series, and thus, when the game AFTER Skyrim comes out (in however many years) - the main pages can be changed to reflect a focus upon the more current game. However, as you said - the Skyrim community is REALLY active right now (and understandably so, since its much more current) - whereas this one doesn't really, being a bit more long term.
I have just one or two more questions. You seem to be someone who knows a lot more about Wikia/these pages than I do (I'm a newcomer here still). First question - do you know who is the Administrator here? Because I dont. My second question is more broad - how do we do what you suggested? Im happy to merge them, I just dont know how to do so. In summary - I'm cool with it. It may be contraversial, but I'm okay with contraversial, if it serves the greater good, which, I think it does in this case. Timeoin 06:30, March 29, 2011 (UTC) (p.s. sorry for the long-winded message - I have been in "university mode" all day, and its hard to break out of)
Thankyou for that! It's always good to know that there ARE Moderators out there, logging in still :) I Shall do as you suggested, though :) I do not really wish to adopt the Wiki, but I would very much like to be able to help contribute a lot more. Anyways - thanks for your help! Timeoin 23:37, March 29, 2011 (UTC)
As the new SysOp here, and (at least as far as I can tell) - the only currently active one - I hereby state that we are a "go" for the merging of the wiki. Whats the next step? :) Timeoin 10:50, April 12, 2011 (UTC)
Okay. Let me know how to help, Ausir? :) Timeoin•Say G'Day•View my work•See current projects 12:52, May 2, 2011 (UTC)
Im going to work on the list more when I wake up tomorrow morning (Its currently 1 am here, too late to be thinking clearly :s) Before I go though - is there some way to make Lordsunflash and Kacj321 administrators here, since the wikis are merging? It seems only fair, since they ran the Skyrim wiki, and did a good job too! Timeoin•Say G'Day•View my work•See current projects 15:10, May 2, 2011 (UTC)

Thanks! :) When the community migrates as well, I dont doubt that it shall be needed :) Timeoin•Say G'Day•View my work•See current projects 15:26, May 2, 2011 (UTC)
Timeoin Admin
Edit
Hey, I want to know have you made Timeoin an admin yet? I think he really deserves it, I've not seen some so devoted to a wikia (apart from me).
User:Kacj321 03:48, April 4, 2011 (UTC)
Just logged in again (damn internet connection issues) - and yes. He has indeed! Thankyou Ausir :) Timeoin 03:39, April 12, 2011 (UTC)
Thank you again!
Edit
Wiki Merge
Edit
So - now I just go through and add these pages to the main wiki? And fix/incorporate categories? Also - can we make the Skyrim Wiki thing the main page? (That is, after all, the whole idea :D) Timeoin•Say G'Day•View my work•See current projects 13:48, May 2, 2011 (UTC)
That has got to be the all-time record for fastest response time to a question! Thanks though! Timeoin•Say G'Day•View my work•See current projects 13:50, May 2, 2011 (UTC)

Is there a formal/proper way of merging ? (i.e "Regions of Skyrim"), or is it just copying the information and deleting the original page? Timeoin•Say G'Day•View my work•See current projects 14:02, May 2, 2011 (UTC)

"Wikia's wikis dedicated to the Elder Scrolls series are being merged" - (Excepting OblivioWiki :P) Timeoin•Say G'Day•View my work•See current projects 10:41, May 4, 2011 (UTC)
what happened to the front page
Edit
D: Whats up with the changes to the front page . . . I mean, it isnt quite as cool looking now . . . it looks much more amateur now . . . Why? ralok 23:40, May 2, 2011 (UTC)
Its part of the migration process, I believe. I think we're hoping that noone will notice the fact that the address bar will no longer say "Skyrim.wikia" :P (Or that it suddenly gained about 1800 pages :P) Timeoin•Say G'Day•View my work•See current projects 00:49, May 3, 2011 (UTC)
We need to get a pro in here to work on the front page. I have done some minor work on front pages, but nothing good enough for the elder scrolls universe (only good enough for the thundercats universe :P) ralok 00:53, May 3, 2011 (UTC)
Don't worry. We'll have it cleaned up fairly shortly. Its one of the things we need to clean up from the migration, but its definitely on the to do list. (Also - it feels GOOD to see lots of edits when I wake up :P) Timeoin•Say G'Day•View my work•See current projects 00:56, May 3, 2011 (UTC)
Damn you're good!
Edit
"The page or file "Talk:Skyrim/@comment-95.135.10.160-20110504115321" could not be deleted. It may have already been deleted by someone else." I swear that was not even there for a minute before you deleted it! Thanks! Timeoin•Say G'Day•View my work•See current projects 11:55, May 4, 2011 (UTC)
Im sorry
Edit
I am sorry that I have been being difficult, and borderline childish . . . its just, well I am not so goodat interacting with other people. I am good with putting information in though, so I will try and restrict my efforts to cataloging the information of the elder scrolls universe. ralok 12:45, May 4, 2011 (UTC)
A half-joking question for you...
Edit
Did you advertise our wiki over at the Fallout Wikia? Or do you just have a cult-like following? (Or, alternatively, does everyone just like Achievement Points? :P) Idk - I just realised how many of the edits this weekend have been from regular Fallout wikia contributors - and its a good thing :) Anyways, back to work I go! Timeoin•Say G'Day•View my work•See current projects 03:43, May 9, 2011 (UTC)
Hey Ausir was wondering if you can make me a adminstrator for this site
-Im currently ranked 13th in i aim to be 4th by the time the game comes out
-I will bring true elder scrolls v fans to this site
-I know alot of history about elder scrolls yea i know im somewhat of a neeeerrdd
-I will constantly remove any vandal if found
---
I praticaly made the giant page with a help of few others. I made a coule of page's like the were-yeti page and the utheres swamp page.
So can you please consider this.
Sincerly----Dragon-born
I have been leaving links on the fallout wikia.
A have a Template question for you
Edit
Um ... I changed the Welcome Template to a grey colour, as it clashed horribly with the colour scheme we have with the Skyrim background. Yet, I just went to a new users page (User_talk:ArchangelKay) and see that its still showing up as the old template. Do you know how I can fix this one? Timeoin•Say G'Day•View my work•See current projects 05:43, May 16, 2011 (UTC)
Also, I would like to apologise to you for the vandalism that took place here. I would have deleted it myself, but unfortunately, I needed sleep. It has taught me a valuable lesson though - NEVER TO SLEEP AGAIN :P Timeoin•Say G'Day•View my work•See current projects 01:14, May 17, 2011 (UTC)
Death and taxes must be banned.
Edit
His vandalism is thing the wiki and probably the one who ruined the others too. I will try my best to rid his vandalism. But it is for nothing without him gone.
Cross-Wiki Vandalism
Edit
My apologies! I only really know my little corner of Wikia, and I see him attacking mine. I should have guessed he was attacking lots of places too. Anyways - good luck!! Timeoin•Say G'Day•View my work•See current projects 13:15, May 17, 2011 (UTC)
This, for me, brings me up into 5-digit levels. I just wanted to say, well ... thanks for everything you have done so far :) Timeoin•Say G'Day•View my work•See current projects 15:38, May 26, 2011 (UTC)
blocked BLOCKED
Edit
Yeah so i just found out the news that i got blocked on The Vault wiki and i had a few questions
1. Is there any way to make the block be over quickly
2. Will the block affect anything on
A. The vault wiki
B. Any other wikis
3.Is there anyway possible that we could have a chat by E-Mail over this whole shenaniganCloudstrife133 09:26, May 30, 2011 (UTC)
Hello Ausir. I was just wondering if you would be able to tell me more about when the merger is happening? Some people are getting eager and adding pages about quests and characters in Oblivion, which will likely get removed in the Merger... so any news as to the merger would be appreciated, as I could say how long remained. On a different note, though, some folks have taken to starting to hack Lulzsec in return. Timeoin•Say G'Day•View my work•See current projects 01:38, June 20, 2011 (UTC)
Okay. And thanks for letting me know :) I hope so too! Timeoin•Say G'Day•View my work•See current projects 08:35, June 20, 2011 (UTC)

Thanks Ausir! :) Timeoin•Say G'Day•View my work•See current projects 23:42, June 21, 2011 (UTC)
Username needs fixing up.
Edit
Hey, Ausir. Anyway, If you got the time, could you please get my username changed from TESClaymor3779 to TESClaymore. If that username happens to be taken, then TESClaymore3779 will do fine as well.
Thanks a heap.
TESClaymor3779 (talk) 03:56, July 11, 2011 (UTC)TESClaymor3779
Wikia Chat
Edit
Err... Sure, if I can work out how to use it. lol. Timeoin•Say G'Day•View my work•See current projects 05:06, July 13, 2011 (UTC)
Hello Ausir. Just wondering ... is there a way to make a quick poll on here? I wanted to put a question to the community regarding whether to use the Characters or NPCs category. and it seems like the best way to find out the opinions of the majority of people. If its not possible, I'll work out another way to do this. Um - thanks in advance! :) Timeoin•Say G'Day•View my work•See current projects 06:42, July 23, 2011 (UTC)
HomePage
Edit
Hey Ausir, I've been wondering who was the person that made The Vaults homepage because this wikia want to go for the same thing with the content portal, but no-one really knows how to.
Thank you! Kacj321|Zomboid Wikia|Elder Scrolls Wikia 02:33, August 18, 2011 (UTC)
You need to fix your site. this is how it looks under Monobook. You have users violating copyright left, right and center. You have admins who don't know what they're doing.
It's up to you. –rpeh •T•C•E• 23:31, August 25, 2011 (UTC)
Echoing rpeh
Edit
I see you haven't been active here in weeks as usual. Your only decent admin (the only one who can actually type a sentence without having an aneurysm all over the keyboard) has been inactive for almost a month, the UESP images are STILL being posted left and right, and the front page is broken in multiple ways.
None of the admins here have any idea what they're doing and the "news" page is filled up with 12 year olds vomiting gibberish all over the place and posting spam links.
Come on, Ausir. Ajfhshgfhshng (talk) 12:07, September 12, 2011 (UTC)
Why do you from the UESP always insult other users on this wiki? That sort of behaviour is not what I would expect from a website such as the UESP! If you really are interested in "improving" your website, you should start with your attitude! Being rude to others is not the way to make more people come visit your website! Remaining calm and polite is always better.
The "news" pages are there as a social feature, something the UESP is obviously lacking. From my understanding, and your respective users (I have talked to a couple of them), the UESP wiki is not a place where "you can share your own opinion about something", whilst this wiki on the other hand is.
I do wish to improve the relationship between the Elder Scrolls wiki and the UESP. Being a frequent user of both wikis, I have seen both pros and cons of both websites. Therefore I would recommend that both sides write in a rational way in the future.
Zluhcs (talk) 12:58, September 12, 2011 (UTC)

I think it relevant to note that Ajfhshgfhshng is currently blocked on Fallout wiki for vandalizing the living hell out of it earlier today. Where a vandal gets off criticizing anyone on Wikia is beyond me. Message 19:52, September 12, 2011 (UTC)
Hey Ausir I'm having a problem. Every time me or someone else trys to get onto the http://elderscrolls.wikia.com/wiki/The_Elder_Scrolls_Wiki:Manual_of_Style page its comes up as a white screen and I don't know how to fix this. Please help Kacj321|Zomboid Wikia|Elder Scrolls Wikia 21:57, September 13, 2011 (UTC)
Imagine if Skyrim came on as a mmorpg!!!
G'Day Again
Edit
Remember me, Ausir? It was only 8 or 9 months ago that you promoted me to Admin here. Now, thanks to some help from the OblivioWiki and Skyrim Wiki Merges, the wiki has now reached 27 million views in the last month (And this shall increase as the month goes on). So ... I would like to take this opportunity once more to say - thanks for giving me the chance to do what I have been able to do so far on here! Timeoin•Say G'Day•View my work•See current projects 14:20, November 16, 2011 (UTC)
You uploaded a picture of a dunmer in shrouded armor to the thief playstyle page. In my game, males wearing the shrouded armor don't have that nice strap and folded down hood on the shoulders like in that picture and on the loading screen. Is that a different version or something or is that how it is in everybody's game and the screenshot you uploaded is from Bethesda not your game?
Thanks
75.72.168.65 03:36, December 1, 2011 (UTC)Michael
Talk Pages Cleanup
Edit
Greetings! I've been going through some of the archives left over from the OblivioWiki Merge, and I see that a talk page exists from the OblivioWiki. If you want to view it to archive this talk page, you can view it here: OblivioWiki:Merge/User talk:Ausir. Otherwise, in a short while, I shall be deleting those pages in order to finalise the OblivioWiki Cleanup. Thanks in advance. Timeoin•Say G'Day•View my work•Skyrim To-Do List 23:40, December 3, 2011 (UTC)
*Disclosure: Some of the links above are affiliate links, meaning, at no additional cost to you, Fandom will earn a commission if you click through and make a purchase. Community content is available under
CC-BY-SA
unless otherwise noted.