Welcome, Darth Storm!
---

Hi Darth Storm, welcome to the Elder Scrolls Wiki! We're building a collaborative source of information for the Elder Scrolls lore, and we need your help. We saw you making some changes to our articles, and thank you for it. Hope you choose to further this project, and that we'll see you around in the future. If you choose to stay, here are some links to help you out: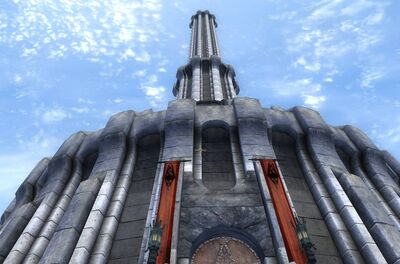 Internal pages:

Help Pages - Our "How to" section.
Mentors - Ask them for help.
Morrowind - Our base page for the Morrowind section.
Cyrodiil - Our base page to the Cyrodiil section.

External Wikipedia pages:
Elder Scrolls policies:
Remember that you should always sign your comments on talk and vote pages using four tildes, like this: ~~~~.
I hope you enjoy editing here and being a Elderscrollian! If you have any questions, see the help pages, add a question to the Forum, visit our official IRC channel, or ask one for our mentors.
Hi Darth Storm welcome to elder scrolls wiki. Thank you for your recent edits, please make sure to categorize the pages you make and to add the appropriate templates. - –K.A.J•T•C•E• 12:50, 1 June 2008 (UTC)
Darth, I see you've begun writing battles as well as profiles. That's good, maybe we can work together. I've been writing the battles so far on the wiki, but my knowledge is tailored mostly to the games themselves. While I have some knowledge of Elder Scrolls lore, it is still pretty lacking, and I would have to do much research before I began writing battles outside the games. My plan was to go through the games, then begin with the historical wars and such, but it seems you've got that handled! So why don't we work together, you and I, and bring the wars of Tamriel to the wiki. You can reply on my talk page, and I look forward to working with you.-GR Groe 15:31, 3 June 2008 (UTC)
I don't know about the Main Page, you'll have to talk to Game Lord or KAJ about that. However, for your battles, remember to categorize them, for example: Tamriel/Battles/Battle of the Highlands. The idea is to build up the site like a tree, allowing for easier navigation. This way, you don't have to type in the name of a certain page every single time you want to visit it. Trust me, it helps when you're writing out wars. However, when you first write the page, always write it under the usual name (ex. Battle of the Highlands), then move it to the new categorical title. Otherwise, something like this happens.GR Groe 21:37, 3 June 2008 (UTC)

Ok, the moving thing isn't actually that necessary. When you move a page, the wiki software will automatically create a redirect. These are easy enough to do manually though, and I'm developing a bot which can do it for us later. I'm also thinking about a category, Category:Navigational Redirects, where all such redirects will go. I've also fixed the Battle of Bruma problem.
As for the main page, the quote can be changed by anyone, although I'm planning to simplify the Main Page's code a bit so it's easier. Featured articles can be requested [[Elder Scrolls:Black Hand|here]]. If there's anything else you need, please ask. - Game LordTalk|Contribs 09:26, 4 June 2008 (UTC)
Couple of things
Edit
Hi Darth Storm. Firstly thank you for all your hard work, its greatly appreciated. Secondly when adding images to the infoboxes you dont have to thumbnail them, just thought you should know that. Thirdly in regards to the main page you can change the quote of the day if you like but you dont need to edit the main page, just replace the quote on Template:QOTD to whatever you desire. And as Game Lord has said we nominate featured articles, and hopefully we will have a new one soon. Finally and most importantly I would like to nominate you for membership on the Black Hand. The Black Hand is our featured article system were we vote for featured articles, discuss the improvement of articles and vote in new members. We are trying to get a council of five, and at the moment there are three of us. Myself and Gr Groe hold the title of Speaker and Gamelord who leads the Council is our Listener. You've clearly got the knowledge and the passion to see it through so if this does interest you just come by my talk page or if you have any other questions dont hesitate to ask. - –K.A.J•T•C•E• 10:21, 4 June 2008 (UTC)
Right your up for nomination. You need one more vote to obtain a majority, I will leave a message on Gr Groe and Game Lords talk pages asking them to vote for or against. - –K.A.J•T•C•E• 10:30, 8 June 2008 (UTC)
Congratulations
Edit
Well done you are now a Speaker of the Black Hand. - –K.A.J•T•C•E• 14:12, 9 June 2008 (UTC)
No we dont, we will definately need one in the near future. Incidently would you mind giving me some feedback on the monaco skin. - –K.A.J•T•C•E• 19:59, 24 June 2008 (UTC)
It's supposed to be transparnt but for soe reason its got a black box around it. I think we should have a contest to design a new logo. - –K.A.J•T•C•E• 18:08, 25 June 2008 (UTC)
Daedric alphabet headers
Edit
Hi Darth Storm. I had an idea that I wanted your opinion on. Well you know on the main page we have the brown header bars for things like the quote of the day featured articles ect. Well I thought why dont we put daedric translations next to each one, like this.
Image:QOTD.PNG - Quote Of The Day
Image:FA.PNG - Featured Article
Image:ITN.PNG - In The News
Image:DYK.PNG - Did You Know
Image:OESS.PNG - Other Elder Scrolls Sites
Each one translates accurately, I spent ages putting them together. So what do you think? They would have to made transparant so we could see the brown behind them but I'm sure a wiki helper would do it for us. - –K.A.J•T•C•E• 10:15, 29 June 2008 (UTC)
Yeah that was my logic as well. it's just those little things that puts us above and beyond. Also speaking of the little things have you got your skin prefernce set to the defualt monaco? - –K.A.J•T•C•E• 12:52, 29 June 2008 (UTC)
Ah that's good. I'm glad you like it. I wasnt fishing for compliments or anything, I'm just keen to know what people think. Speaking of which dont hesitate to say if you think that something could be added. - –K.A.J•T•C•E• 13:01, 29 June 2008 (UTC)
RE:Featured article
Edit
I agree he's been there too long, he isnt really even good enough to be featured. Did you have one in mind? - –K.A.J•T•C•E• 13:26, 29 June 2008 (UTC)
If it had to be one of them I'd say Vicente. There are still things to do before he can be featured though. For example he needs a good lead quote, the opening paragraph needs expanding, the main image needs to be sourced, the red links need to be filled in and I'd say at least one more image in the main body of the aticle. - –K.A.J•T•C•E• 14:02, 29 June 2008 (UTC)
The Daedric headers are up on the main page. Check them out and tell me what you think. - –K.A.J•T•C•E• 18:53, 29 June 2008 (UTC)
Tree Build
Edit
This is a message I'm sending to all our active users on the wiki. As you may have noticed, parts of the wiki (Mainly the battles) are built as a tree. This should be true not just for the battles, but for all pages. Quest pages, NPC pages, all of them. If you are unsure about what section to put a page in, contact KAJ or myself. - Game LordTalk|Contribs 10:55, 2 July 2008 (UTC)
Excellent you can put him forth for nomination. - –K.A.J•T•C•E• 06:56, 5 July 2008 (UTC)
Newbie on the block.
Edit
Hi I'm pretty new here but I do know a bit about the art of the wiki. If theres anything you want doing just leave me a message and i'll get onto it pretty quick. I am active now but will notify when *sigh* inactive... I have already created an Oblivion races page which includes links to the ten playable races in oblivion which i will work on shortly. you may notice that this message is on KAJ's talk but i am putting it her also as you have been more active recently, plz respond i am eager for a task, your wish is my command Regards Lewbot1 09:47, 12 July 2008 (UTC)
Featured Article and Bendu
Edit
I cast my vote. I like the Vicente article quite a bit. One question, as I've been away for a while: Have we decided to use Bendu Olo as opposed to Hero of Kvatch when writing pages? I still use HoK when I write my battles, and I created the Champion of the Mages Guild as a way of circumventing the question of whether or not it truly was Olo. I do this just so that visitors to the wiki can insert their own characters as opposed to surrendering to the Construction Set's default, but is it unneccesary? Let me know what you think, maybe I'll ask KAJ too.GR Groe 05:05, 18 July 2008 (UTC)
Thank you
Edit
Hiya Storm. Just wanted to say thanks for trying to keep the peace between us and UESP, and just for the quality and quantity of your work in general. Sorry I havent been around much, but I just got back off holiday. I think I will make a template that users can put on their pages to let others know when they are away. Also as you know it's normally just Administrators who can vote and nominate other users for sysop status. Well I have decided temporarily to give that right to Speakers of the Black Hand as well, as that council does considerably more than what its there for. Thanks again.–K.A.J•T•C•E• 11:11, 21 July 2008 (UTC)
Agreed. You can promote Vicente. On a related note (as you pointed out), if Game Lord doesnt return soon I'm going to nominate him to have his Adminship and Listenership removed.–K.A.J•T•C•E• 07:19, 22 July 2008 (UTC)
Redirects
Edit
Alright, I'll work on those redirects. --User:Michaeldsuarez(Talk) (Deeds) 18:59, 5 August 2008 (UTC)
Done. --Michaeldsuarez (Talk) (Deeds) 19:13, 5 August 2008 (UTC)
You're welcome. I don't have any questions yet, and I'm not planning to stay here long. I came here because I wanted to edit Elder Scrolls Fanon (that wiki only has 9 articles). --Michaeldsuarez (Talk) (Deeds) 19:20, 5 August 2008 (UTC)
Re:Mehrunes Dagon
Edit
Well you have worked very hard. I feel the events of Arena and Battlespire should be gone into more detail though. –K.A.J•T•C•E• 14:15, 6 August 2008 (UTC)
RE:Sorry
Edit
Don't be sorry, you're free to contribute as frequantly or infrequantly as you like, all the work you do here is greatly appreciated. I'm not sure Pelagius is ready quite yet. Personally I'd like to something other than a character on the main page, maybe a battle. –K.A.J•T•C•E• 08:43, 13 September 2008 (UTC)
daggerfall/spellpoints
Edit
-HELLO I NEED SOME ADVICE PLEASE.HOW CAN I INCREASE SPELLPOINTS.I CANNOT CAST RECALL OR OPEN:AM 7 LEVEL BARBARIAN.I NEED TO OPEN THE MAGICALLY LOCKED DOOR-ENTRANCE TO DAGGERFALL CASTLE. THANKS Xkotekull 18:50, 21 March 2009 (UTC)XKOTEKULL
I rewritten the Orc article since the information you used was from The Elder Scrolls: Arena, which is out-of-date and unreliable. I used information from The Elder Scrolls III: Morrowind instead. I used this as a source. --Michaeldsuarez (Talk) (Deeds) 19:52, 30 June 2009 (UTC)
Please see Special:ListUsers/sysop. --Michaeldsuarez (Talk) (Deeds) 19:56, 30 June 2009 (UTC)
Flood of edits
Edit
It's come to my attention that you've been making many edits on single articles in short periods of time. This can flood the server with edit counts and if someone has watch selected on the article, will flood their emails. Could you please use the preview button more and make your changes within a single edit? Thanks. --JonusAngelus 05:46, 8 July 2009 (UTC)
Black Hand members
Edit
Firstly, Xell Khaar having OCD has got nothing to do with why you were banned. Please don't blame your faults on other people. Secondly, I know we've been here before but given recent events I feel it's appropriate. I have scoured the entire game, and have found no mention of the Black Hand members early lives. Last time I brought this up you claimed you had a source for the information, so what it is? Given that you've just come back from a block I need hardly tell you that fanon WILL NOT be tolerated. –K.A.J•T•C•E• 08:17, 8 July 2009 (UTC)
The reason you were banned was perfectly legitimate. I didn't ask about the Black Hand members because I though they had anything to do with you being blocked. I asked because I want to know were you got the information from. –K.A.J•T•C•E• 20:16, 8 July 2009 (UTC)
Are you going to tell me? Or do I need to ban you for deliberately adding false information to articles. –K.A.J•T•C•E• 07:07, 9 July 2009 (UTC)
I believe our blocking policy calls for two months this time.. since it's his third offense. -- Xell Khaar 07:11, 9 July 2009 (UTC)
Block lefted
Edit
I removed you block, so you can edit again. I'm an administrator once again. --Michaeldsuarez (Talk) (Deeds) 03:57, October 17, 2009 (UTC)
I (think) I answered a question for you.
Edit
It was on the House Sotha talk page. It asked about references. I answered it as best I could, but I figured, you might be able to clarify much better than I can, since you made the page :) Timeoin 17:44, March 14, 2011 (UTC)
Oh, and I have a question for you too. Many (well, the vast majority, it seems) of these pages seen to be about either Morrowind or Oblivion. Should these be instead focussed at the Morrowind and Oblivian Wikias? Or is this the "main" one. What I'm asking, really, is ... how in-depth should this wiki be going into each of the games? Should we, for instance, be focussing on adding the details of as many of the characters as possible, even minor characters, such as merchants? Or - should we be placing as much here as possible. (And if that question doesnt make sense - sorry! Its very early morning where I am in real life, sadly! Timeoin 17:47, March 14, 2011 (UTC)
*Disclosure: Some of the links above are affiliate links, meaning, at no additional cost to you, Fandom will earn a commission if you click through and make a purchase. Community content is available under
CC-BY-SA
unless otherwise noted.