Line 18:
Line 18:
 

==Re:Misspelled words==

 

==Re:Misspelled words==

 

This is the section of [[the Towers]]: [http://elderscrolls.wikia.com/wiki/The_Towers#Heart_of_Lorkhan Heart of Lorkhan]. Separate is misspelled as 'seperate.' {{signature/Ned1230}}19:39, March 9, 2014 (UTC)

 

This is the section of [[the Towers]]: [http://elderscrolls.wikia.com/wiki/The_Towers#Heart_of_Lorkhan Heart of Lorkhan]. Separate is misspelled as 'seperate.' {{signature/Ned1230}}19:39, March 9, 2014 (UTC)

 
+
 
+

==Serana==

 
+
 
+

The Serana page was a featured article so the standard is quite high - a complete rewrite is likely unnecessary. The only thing missing from the page is a full list of dialogue like what we have on the [[Neloth (Dragonborn)|Neloth]] page, but that is a very large task. In any case, changes should be put on the talk page or (if its a big change) sandboxed first and reviewed - because we are dealing with a Featured Article after all, and we don't have many.

 
+
 
+

Looking get Zippertrain's request: The Personality improvement section can be sandboxed or mentioned on the talkpage. The Origins section was already dealt with last year after a long discussion with a few of us on the talk page and the forum (http://elderscrolls.wikia.com/wiki/Thread:380603#151) - we decided that the way we have it now is about as neutral is it is going to get and keep everyone happy. Thanks! [[User:Jimeee|Jimeee]] <sup>([[User talk:Jimeee|talk]])</sup> 11:04, March 10, 2014 (UTC)
---
Revision as of 11:04, 10 March 2014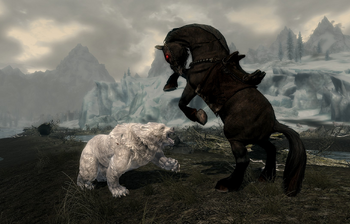 Hi everyone, ask me anything and I'll reply if I can!
Don't forget to add a signature with 4 ~~~~




My time!
15:32
Misspelled word on Serana
Hey Ebony, this is kind of stupid, but there's a misspelled word on Serana: millenia. It should be spelled millennia. Thanks, Ned Tp- Contribs13:07, March 9, 2014 (UTC)
separate is spelled wrong on The Towers as 'seperate.' Ned Tp- Contribs14:02, March 9, 2014 (UTC)

Ebony, if you have the time could you just unlock the Serana page in general? I would like to re-write at, as I feel the page needs to be re-developed. Thanks. Zippertrain85 (talk) 17:34, March 9, 2014 (UTC)
Well, I mostly just want to expand some sections like Personality, that are lacking information. I would also like to make the origins section more neutral, as it appears to be somewhat biased towards the idea that she's from the First Era. Being that this is a wiki, It should be completely neutral. Zippertrain85 (talk) 02:21, March 10, 2014 (UTC)
Re:Misspelled words
This is the section of the Towers: Heart of Lorkhan. Separate is misspelled as 'seperate.' Ned Tp- Contribs19:39, March 9, 2014 (UTC)
Serana
The Serana page was a featured article so the standard is quite high - a complete rewrite is likely unnecessary. The only thing missing from the page is a full list of dialogue like what we have on the Neloth page, but that is a very large task. In any case, changes should be put on the talk page or (if its a big change) sandboxed first and reviewed - because we are dealing with a Featured Article after all, and we don't have many.
Looking get Zippertrain's request: The Personality improvement section can be sandboxed or mentioned on the talkpage. The Origins section was already dealt with last year after a long discussion with a few of us on the talk page and the forum (http://elderscrolls.wikia.com/wiki/Thread:380603#151) - we decided that the way we have it now is about as neutral is it is going to get and keep everyone happy. Thanks! Jimeee (talk) 11:04, March 10, 2014 (UTC)
*Disclosure: Some of the links above are affiliate links, meaning, at no additional cost to you, Fandom will earn a commission if you click through and make a purchase. Community content is available under
CC-BY-SA
unless otherwise noted.