Welcome, GR Groe!
Edit
Hi GR Groe, welcome to the Elder Scrolls Wiki! We're building a collaborative source of information for the Elder Scrolls games, and we need your help. We saw you making some changes to our articles, and thank you for it. Hope you choose to further this project, and that we'll see you around in the future. If you choose to stay, here are some links to help you out: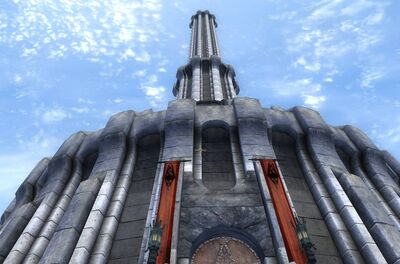 Internal pages:

Help Pages - Our "How to" section.
Mentors - Ask them for help.
Morrowind - Our base page for the Morrowind section.
Cyrodiil - Our base page to the Cyrodiil section.

External Wikipedia pages:
Elder Scrolls policies:
Remember that you should always sign your comments on talk and vote pages using four tildes, like this: ~~~~.
I hope you enjoy editing here and being a Elderscrollian! If you have any questions, see the help pages, add a question to the Forum, visit our official IRC channel, or ask me on my talk page. —–K.A.J•T•C•E• 13:25, 19 May 2008 (UTC)
Hi GR Groe, welocme to the Elder Scrolls Wiki.
Just a quick hello from me, I'm KAJ and I'm the sites administrtor. I must say I was thoroughly impressed with your wrighting of the three battle articles, I hope you choose to stay here and maintain such good quality writting. You may even be eligible for a place on the Black Hand which is our FA system, if that interests you you should talk to Game Lord who is the Listener of the Black Hand. Thanks again for your top notch work. - KAJ – Talk 09:00, 20 April 2008 (UTC)
RE:Conflicts
Edit
Hmmm, thats a tricky one. I think for the first "Attack on the Mages Guild" would be more appropriate as it really was one one sided conflict on the part of the Necromancers and not large enough to be considered a war. Also on the subject of Necromancers, when filling out the infobox the proper name for Mannimarco's lot is the Order of the Black Worm, just thought you should know that. as for the second Auron crisis should be okay, or maybe "Umaril's Invasion", I will leave that one up to you. Good hunting. (PS: Well done on your Speakership). - KAJ – Talk 12:01, 12 May 2008 (UTC)
I think I'd go with KAJ on that one, although to be blatently honest, my knowledge of Tamriel lore is almost non-existent. My area of expertise is the Tribunal gods, and Morrowind/Vvardenfell's history. One other thing is that I've moved Oblivion Crisis to Tamriel/Battles/Oblivion Crisis. You probably also have noticed pages like Morrowind/Classes and Morrowind/Items/Armor/Standard Armor. What I'm basically trying to do is build up the site like a huge tree, which makes navigation easier. If you open the page Tamriel/Battles/First Battle of Bruma, you will notice in the top left corner <Tamriel|Battles. This is whjat I mean with navigational help. So if you're planning to make more pages (which you hopefully are), could you try to organize them as such? Normally it's pretty obvious what to call all the sub-sections, but if you need help, well, we're always here. Thanks again for you're work on the battles! - Game LordTalk|Contribs 12:11, 12 May 2008 (UTC)
RE:Mages Guild
Edit
I think for now the best thing to do is just label him as Bendu Olo as that is the default name for the player. It can be changed once I get my creative cap on but it will do for the time being. - –K.A.J•T•C•E• 13:25, 19 May 2008 (UTC)
Working With You
Edit
Glad to be working with you. If you have any suggestions for my articles or any corrections just send them to my talk page Darth Storm 19:50, 3 June 2008 (UTC)User:Darth Storm
Main Page
Edit
Why doesnt anyone update the featured articles and featured quotes Darth Storm 20:18, 3 June 2008 (UTC)User:Darth Storm
Hi Groe. Are you viewing the site in monaco?. - –K.A.J•T•C•E• 08:59, 28 June 2008 (UTC)
Yeah I'm really sorry about all those changes. I've been trying to get the logo transparant for ages, in the end I had to ask a wiki helper to do it. But anyway I'm glad you like it, and whilst I dont think the skin itself is perfect yet I can promise there will be no more logo tampering. But you might have some suggestions for the improvement of the skin, or sight in general? If so please do share them as everyones input is welcome. - –K.A.J•T•C•E• 09:10, 29 June 2008 (UTC)
Daedric alphabet headers
Edit
Hi GR Groe. I had an idea that I wanted your opinion on. Well you know on the main page we have the brown header bars for things like the quote of the day featured articles ect. Well I thought why dont we put daedric translations next to each one, like this.
Image:QOTD.PNG - Quote Of The Day
Image:FA.PNG - Featured Article
Image:ITN.PNG - In The News
Image:DYK.PNG - Did You Know
Image:OESS.PNG - Other Elder Scrolls Sites
Each one translates accurately, I spent ages putting them together. So what do you think? They would have to made transparant so we could see the brown behind them but I'm sure a wiki helper would do it for us. - –K.A.J•T•C•E• 10:15, 29 June 2008 (UTC)
Tree Build
Edit
This is a message I'm sending to all our active users on the wiki. As you may have noticed, parts of the wiki (Mainly the battles) are built as a tree. This should be true not just for the battles, but for all pages. Quest pages, NPC pages, all of them. If you are unsure about what section to put a page in, contact KAJ or myself. - Game LordTalk|Contribs 10:55, 2 July 2008 (UTC)
Featured Article
Edit
When you can go to Elder Scrolls:Featured Articles and vote for our new featured article. Darth Storm 04:53, 18 July 2008 (UTC)
Elder Scrolls Wiki:Featured article nominations
Bendu Olo
Edit
Personally I use Olo, but they are all basically the same person so I don't think it exactly matters. Darth Storm 15:59, 18 July 2008 (UTC)
Pelagius Septim III
Edit
We have another article up for featured article status vote if you can. Darth Storm 16:17, 28 July 2008 (UTC)
Oblivion project
Edit
Hey Groe. Just a few things I wanted to bring up, firstly as you may have noticed we've hit the 1000 article mark, making us one of the biggest wikis on the web. Secondly my main focus from now on will be the Oblivion project, starting with creating articles on all NPC's in Oblivion using my sandbox, Iwould greatly apreciated your help in this as it is a massive job. And lastly we need to get in the habbit of categorizing all the new articles we make, as I did with your recent creations. With people it is simple enough, we categorize them according to gender, race and if possible faction. For example Lucien Lachance goes in the males, Imperials and Dark Brotherhood members categories, simple. Thanks again for all your hard work. –K.A.J•T•C•E• 09:30, 6 September 2008 (UTC)
Yeah the ones that look diffrent need to be reformatted so there the same as the Altmer one, I'll get round to it eventually. Of course we will eventually get round to all the games but Oblivion is my main focus for the moment, mainly because as I play on the PC I can take screenshots for the wiki. Thanks for categorizing as well. –K.A.J•T•C•E• 08:40, 13 September 2008 (UTC)
RE: Templates/Infoboxes
Edit
No, that was me. I fixed the problem. Refresh the page, and it should work. Thanks. --Michaeldsuarez (Talk) (Deeds) 00:12, 15 May 2009 (UTC)
Battle of Ald'ruhn
Edit
Hello GR Groe, I have updated the article, the Battle of Ald'ruhn, with some new information I have discovered on the Elder Scrolls Lore forums. I also found a new image to be used in the infobox. Feel free to rearrange the information to better format it. If you have any questions, please leave a message on my talk page. InfernalWarrior 20:45, February 6, 2010 (UTC)
Hi there GR Groe!
Edit
Are you still around? Because, if you are, I have some questions I'd like to ask about the Battles pages :) Nothing major, the pages are awesome content-wise, I just wanted to go through and add references here and there, if I could :) Timeoin 03:55, April 19, 2011 (UTC)
Yeah, I saw that it was languishing a fair bit. (I even dug a little bit into the talk archives. Apparently there was some big fallout over ... something? (I dont know what, and, honestly, I dont think it really matters much anymore :P) I figured that your research was sound - Most of the stuff looks fairly accurate, from what I can recall off the top of my head (which is to say, with the books that have been added, and the content from the games, they seem to match. My current "project" if you want to call it that, is to have all the lore-ish pages (as in, anything not directly a quest, character, location page, if that makes sense?) - have them referenced. Just about every book you can imagine (and some you probably cant. lol) - has now been added, so references are all there :) But yeah - the stuff you wrote looks researched, but there seems to be a bit of fanon there (which is kinda encouraged - just... over at the ES fanon one, whatever its called). Aaanyways - thanks! It means a lot to know that the work I've been doing is appreciated. Also - welcome back :) As for help ... well, I'll take whatever help I can get. Only thing I can really think of off the top of my head was the Alessian battle thingy (whatever the official name of it was) - I think those should be separated into two distinct wars; one being the fight against the Ayleids, and the other being the conflict against the Dirennis and the War of Succession which came shortly thereafter. Anyways - Welcome back! Timeoin•Say G'Day•View my work•See current projects 02:59, May 23, 2011 (UTC)
I've been sitting on your Talk page for about ten minutes debating whether of not to say "Hey" - and I dicided to say "Hey". So, "Hey", name's Ѵєяɩτѧѕ. I see you've been absent for a little bit - and while you were gone I came here - so you are new to me - so Hey!
No problem :)
Edit
Timeoin talked highly of you when he and I were discussing members - so I figured I'd say hey. On a random thought side-note: I'm running for Admin, so if you'd like to give me your support, that'd be awesome :)
References
Edit
Thats okay :) Take as many edits as you need (Particularly for rather large changes to a page, there are going to be a lot of edits required!). As for referencing - that is okay. Most of them occur within the game, so that is good. The references one should really only be needed for, say, ones that are mentioned by books, ie. the War of Betony. (Really, as long as the events DID actually happen in the game (i.e. the Fanon stuff is gone) - then just having "Sources" and then "The Elder Scrolls IV: Oblivion" should be sufficient? Timeoin•Say G'Day•View my work•See current projects 05:01, May 28, 2011 (UTC)
*Disclosure: Some of the links above are affiliate links, meaning, at no additional cost to you, Fandom will earn a commission if you click through and make a purchase. Community content is available under
CC-BY-SA
unless otherwise noted.